Planning on starting your website? Taking a decision on which is the best website builder for you? We have got you covered! Let us draw all the comparisons on WordPress vs Wix to find out who stands a better chance. WordPress is the most popular CMS maintained by a huge community of developers around the world and WIX has grown a lot in the last couple of years.
WordPress is an open source CMS. The source code is open for using, exploration and addition by everyone, for everyone. It can be used for both personal and high-end entrepreneurial websites. The technology of WordPress is not owned by any one entity.

WIX, on the other hand, is a do-it-yourself visual website builder. Where any individual without a prior coding experience can build a beautiful and attractive website. All kinds of requirements are taken care of by them. The user just needs to make an account, add content to a pre-built template and launch their website.
WordPress can be used by a creator in two ways. WordPress.com, which is hosted; and wordpress.org which is a self-hosted platform. The hosted option has limited flexibility to itself. For the purpose of this comparison, we will be taking the self-hosted wordpress.org into consideration.
Where do the differences between WordPress vs WIX lie?
Ease of Use

Design and Customizations

Features & Functionality

Expandability


Pricing
WordPress vs WIX: Ease of Use
While choosing the best website builder the first step is ease of use. Where do WordPress vs Wix fall in that category?
Installation:

How easy is WordPress to install?

Setting up WordPress is straightforward. First is to register your domain and set up hosting.
There are many hosting services that have launched dedicated plans for this platform and installing WordPress is a one-click exercise. Secondly, there are some managed hosting sites who undertake the installation for their users. The third is to log onto  www.wordpress.org,  download the latest version of WordPress and then install it on your computer.
When it comes to installing WIX, it is fairly direct. The user needs to log in to create an account. This can be done using Google and Facebook credentials as well. The consecutive steps depend on whether the user opts for a free or a premium site.

Customization:



With WordPress, after installation, the user can select a theme. When comparing WordPress vs WIX, paid and free themes are available with both. In WordPress, one of the premium ones can help him/her get an engaging website at a minimal cost. The next is to download and add in plug-ins. These plug-ins help the user to bring additional features on their site. With the launch of the new Gutenberg editor, there is increased scope of multimedia integration and visual efficiency for the creator.

With WIX on the other hand, there is an exhaustive list of pre-designed templates to choose from. From business to blogs to portfolios. There is another shortcut that WIX has created for this. The user can log in and let the ADI (Artificial Intelligence Website Designer) create the look and feel of the website on their behalf. This is done after asking a couple of questions to understand the user's purpose. When comparing WordPress vs WIX, this is something that WordPress is yet to achieve. 
Our Verdict:
We feel that in this criterion of WordPress vs WIX, WordPress takes the point. Even when there are a couple of steps involved to get your website started on WordPress, the possibilities of making the most out of the themes and plugins are virtually endless.
With WIX, the installation is fairly simpler and smooth, but when it comes to templates and features there is a restricted limit to what the user can do.
WordPress vs WIX: Design and Customization

Your website is a reflection of your personality, ideas, and business. Hence understanding which best website builder provides you with the maximum creative potential and efficiency is extremely necessary.

Website designing in WordPress is based on two pillars- Themes and Plug-ins. There are two places to find these; Firstly, The WordPress theme directory, which is the official repository. And secondly, independent theme stores and marketplaces. From both, the user can get an extensive directory of free and paid themes and plugins. Even the free templates are held to very high standards of development. And when it comes to the paid themes, the amount of extra functionality they allow for, like better security, premium support and in-built widgets, the price comes with a worth.
When it comes to WIX the user selects a template. There are more than 550 templates on WIX in more than 70 specific and diverse niches.
The choice of the WIX website template needs to be made very carefully as it cannot be changed during the editing process.
The reason for that in WordPress vs WIX is that WIX works on an absolute positioning feature. WordPress lets the user switch templates during the editing process, keeping the compatibility in mind.
Designing and customizing through WIX is very easy as the user can make full and complete usage of drag and drop. Everything in the template is customizable from colors to typography, to addition and subtraction of elements. With the launch of the Gutenberg WordPress Editor, the scope of achieving designs and layouts with WordPress has increased multifold. They have now adopted the much-appreciated point-and-click method. Add to that page builder like divi that can add to the user's creativity. Another point to note in this comparison of WordPress vs WIX is that each WordPress theme comes with its own individual settings, which is an asset. These help the user enable and customize elements such as logos, color themes, menu bars and disable certain widgets.
The fact definitely exists that if a user knows a bit of HTML and CSS, the possibilities with WordPress are practically endless.
Our Verdict:
WordPress is a definite knock out the winner in this category when comparing WordPress vs WIX as the possibilities are infinite. WIX works on a WYSIWYG editing environment. There is a relatively small and restricted pool of templates. There are chances of repetition of the best ones. 
WordPress vs WIX: Features & Flexibility

As website building services both WIX and WordPress come with various features.
WordPress supports built-in comments, whereas, for WIX the user has to install apps from the WIX store.
As an interface WordPress has a flexible dashboard and editor depending on what toolbars the creator wants visible, whereas, for WIX, there is a standard editor and dashboard for all the users.
When it comes to being multilingual WordPress is. But, WIX needs activation of WIX Multilingual to publish the same page in multiple languages.
There can be a hierarchy and management of the users that access the website with WordPress. Like Administrator, Editor, Contributor, and Subscriber.  Each has a specific role and the ability to take actions on the website. With WIX there is one site owner and all the others are contributors.
The data is owned by the website holder and not WordPress. Whereas with WIX if the user's WIX website goes against the company's policies, it stands a chance to be taken down. Therefore, the owner never really owns their website.
WordPress is W3C Standard Compliant where WIX stands with loads of errors and potential Quirk Codes as it is not entirely compliant to the standards.
WordPress boasts of a very large and active community of users and developers. WIX being comparatively new in the space lacks this. It does have  WIX Arena as site support for the users.
WordPress is entirely customizable with the right plugins and knowledge of CSS and HTML. WIX, on the other hand, has attractive templates that look aesthetically pleasing but the user can only do as much as the author has allowed.
WIX has a very intuitive drag-and-drop feature. The user can position any element the way he/she desires. WordPress' Gutenberg has also included features like drag and drop which adds to the users' ability to do much more with their website.
 WIX comes with an Artificial Intelligence Website Designer (WIX ADI), it helps the user in creating their website after asking them a few questions. WordPress does not have such support until now.
Our Verdict:
Our Verdict for this criterion of WordPress vs WIX would be WordPress again. For the primary reason that the possibility of features with it are endless. Even when it comes to coding needs, there are tutorials and assistance everywhere easily available. Moreover, there are website maintenance and management companies who can assist you with that.
WIX has come up with a lot of features and the ability to being able to do a lot with little or no assistance.
WordPress vs WIX: Expandability

Flexibility gives the user more control over their website. In WordPress vs WIX let us see where the two lies:
WordPress' expandability depends primarily on the fact that it is open-source.  Developers and creators can build and evolve it as per their needs. Wix is not open source though, which means as much as the user can tweak with the appearance of an existing template. There is only so much they can do as the author allows them to. Hence, there is a definite boundary to how much can be done with your Wix site.
WordPress initially started as a blogging platform but expanded itself into being inclusive of diverse categories of websites. The numerous plug-ins can add functionality to the website in whichever direction the user wants. And with the ever-increasing number of widgets pouring in, there is a high chance that if a user wants a feature, the respective widget for that already exists. The niche of websites that you can build with WIX is endless.

In Gutenberg, there is a lesser need to work around complex codes. It is now in line with content and page builders where the focus is on content presentation. WIX, on the other hand, is a much simpler website builder to understand, therefore a beginner can start creating a website on it right away.
Our Verdict:

The simpler something is, the lesser flexible it ends up being. By definition of the criteria and the goals, WordPress takes the point in this part of WordPress vs WIX.
There is nothing that is restricted to the user's ability on WordPress.
WordPress vs WIX: Pricing

The amount of money a user will invest in to get their website up and running is an important comparison of WordPress vs WIX.
To get your WordPress website, the user needs to first get a hosting service that can cost around $7 a month or $84 for a year. Then comes a domain name that can range from $12 per year. Next, comes the cost of a premium theme, if one opts for it. A theme can start from $30 and can go up to $300. To enhance functionality, plug-ins and widgets can be added. They can range from $15- $50 each.
WIX, on the other hand, comes with a free plan and 1 premium plan (that includes 5 options). The Free WIX website does not come with a custom domain name and the top and bottom of the website host WIX ads. The owner does not earn anything out of these ads. It is WIX that gets free content to show their advertisements on.
To remove them and get a domain, one needs to upgrade to a premium plan. There are 5 premium plans- Connect Domain, Combo, Unlimited, e-commerce, and VIP. They range from $7-$30 per month. Except for the Connect domain plan, WIX gives the user a free domain name and $300 worth of advertisement vouchers.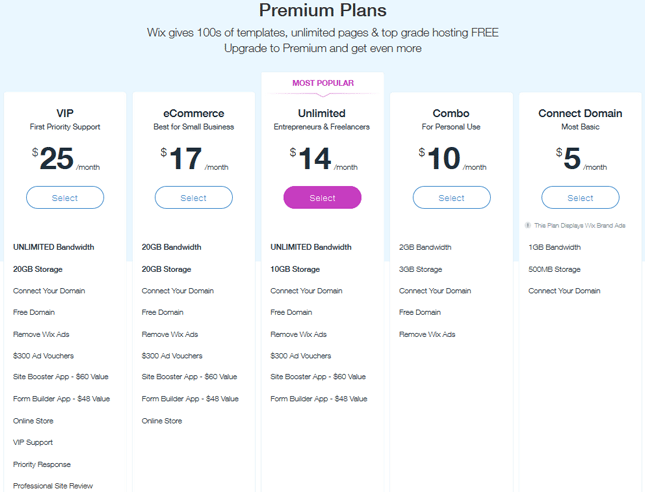 WordPress vs WIX: Summing Up

When it comes to building a website, what matters the most is the 'creator'. It is the creator who sets the boundaries of what they expect and wants out of their website. But when one sees from a neutral point of view, in this comparison of WordPress vs WIX, it is WordPress that takes the eventual victory.
Even when it comes to an SME, who wants to build a website to grow their business, it should go to WordPress for the simple reason that there is absolutely no limit to what they can customize and create with their website as and when their need increases. On comparing WordPress vs WIX, WIX definitely has presented a very interesting platform for the not-so-techno-savvy user to create an attractive website and have innovated a lot in that space.
But when one wants to grow without limitations, they would expect that of their website as well.
And with WordPress that is what is key!
What do you think about this comparison between WordPress vs WIX? Where do you stand when comparing WordPress vs WIX? Have you been looking for someone to help you with your WordPress website management and maintenance? We are here to help you!