What is the best way to see how well your business is growing? The easiest way is keeping a track of your website's traffic. As the business owner, you should have a clear idea who is coming to your website and how. Reason behind this is very simple, the more visitors your website has the more opportunities you have to increase your conversion rate.  
Now you must be wondering things like: what are the other advantages of checking website traffic regularly, how to check website traffic free of cost and how to do this for a WordPress website. Here we are going to discuss a few good website traffic checker tools both free and paid along with their benefits.
Why Do We Need to Track Website Traffic?
If you want to establish your business as a trusted brand, only your users can help you do that. An increased number of users simply means you are taking a step towards success. By building a website, you can easily make a presence in the digital space. But this does not guarantee that you can increase productivity too. You will have to make sure that as many people visit your website as possible.  
How do you get to know the number of people who visit your website in a day, a week or a month? 
This is why we need to track the website traffic. When you have an exact idea how many users click on your website in a day or in a month and where they come from, you can understand which strategy will attract more visitors. 
Regular tracking of website traffic has some other advantages like:
It helps you to understand your audience better and create a loyal user base.

Your website's content will be shared on different social media platforms.

Generate an increased number of leads.

You get to know exactly where your website needs improvement. 

You can create a better content marketing strategy.
You May Also Read: Best WordPress Review Plugin 2021
How to Track Website Traffic?
The easiest way to track your website's traffic is using a tool. There are so many of them available that sometimes it becomes a little bit difficult to pick one for your website. 
To make things easy for you, we have compiled a list of top 5 website traffic checker tools.
SEMRush:
It is an all-in-one tool that you can use to analyze the traffic of your website. SEMRush comes packed with a lot of amazing features like keyword research, tracking keyword rankings etc.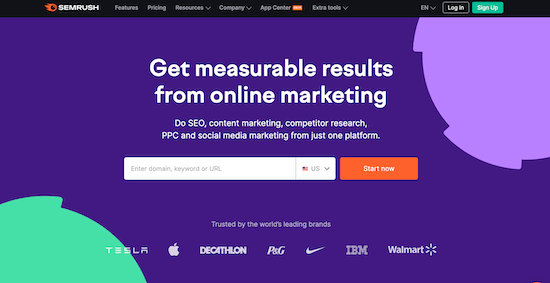 It also works as a great competition research tool. You only have to enter a competitor URL and you will get a detailed report of that website's traffic. This tool will show other important website metrics of your competitor website like the volume of monthly traffic over time, traffic distribution by country, traffic generating keywords etc. When you know how other people in the business are getting traffic, it becomes easier to plan your strategy. 
From the Traffic Analytics tab, you can have a clear idea how many unique visitors are coming to your website, no. of total visits, average time they spend on your website,  duration, no. of pageviews and bounce rate of your website.
If you want to conduct your research on multiple competitors at once then you have that option as well. Bulk Traffic Analysis is the feature that allows you to do so. The no. of websites you can compare can vary on the basis of the pricing plan you choose.  This tool helps you to look at a bigger picture of your niche. 
SEMRush also gives detailed traffic analytics reports so that you can understand which websites are sending the most referral traffic, which pages on their site are the most valuable, and which pages get the highest amount of traffic.
However this tool has a free plan that gives you access to basic website data. But if you want to get detailed analysis reports then the premium plans also start at $119.95 per month. 
Ubersuggest:
Ubersuggest is another popular tool to check your website traffic data. This tool is very easy to use as it comes with a beginner-friendly interface. It makes keyword research and traffic analysis easier than ever. 
This tool has a feature called traffic analyzer using which you can get a clear insight of your competitors' traffic. You can also see which keywords bring the highest amount of traffic to them and which pages are the most popular among visitors. 
The 'Traffic Overview' page of this tool provides the total number of organic keywords a website ranks for. Here, you can also see the organic monthly traffic, domain authority, and the total number of backlinks.
With the free version of Ubersuggest you get access to the last 3 months of data. But if you want direct access to older data, you can also get the premium version. Pricing plans start at a price of $29 per month. 
SimilarWeb:
SimilarWeb is also a powerful tool that you can use to keep a track of your website's traffic. It gives you an overview of your competitor websites' traffic along with a country by country report also. You also get access to detailed reports of a website's entire traffic strategy.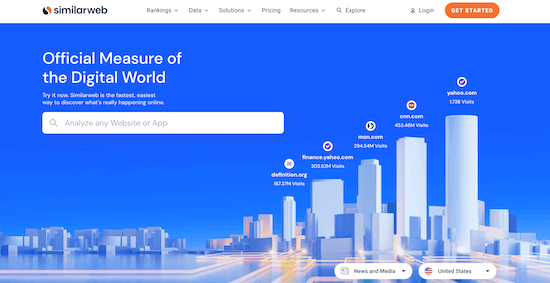 When we say detailed reports it simply means engagement metrics like bounce rate, number of pages viewed per visit, average visit duration, top traffic sources etc.
You can also see which paid keywords are being used and which ones are bringing the website traffic. It really helps to know what social channels of other websites are the most valuable. The free version of this tool comes packed with features and is sufficient for an average website. But if you want some advanced features also then you have the option to create an enterprise account with custom pricing.
Serpstat:
Serpstat is a very popular name when it comes to SEO tools. Initially it started as a simple keyword research tool and now it is one of the best all-in-one tools used for website analysis.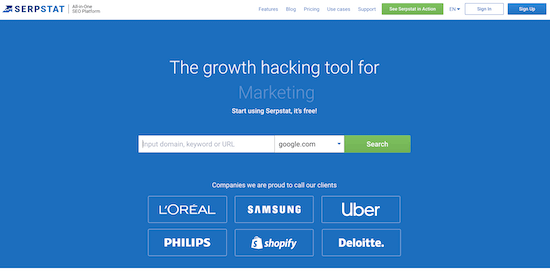 This easy to use tool comes packed with amazing features like backlink analysis, site auditing, and rank tracking. To generate a traffic report, you only have to enter the URL. 
If you need data like organic and paid keywords that bring traffic, the average number of monthly and pages with the highest amount of traffic then you have the traffic analysis features for that.
Also Read: WordPress.com vs WordPress.org
Ahrefs:
Ahrefs is the tool that is being used by big brands like Netflix, Facebook uber etc. With this tool, you can see how much traffic your competitors are getting and how they manage to achieve higher rankings. You can easily outrank your competitor websites and get more traffic with Ahrefs.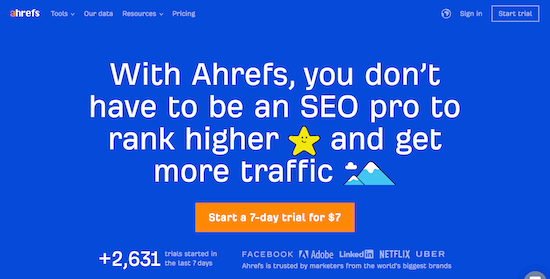 This tool has a simple and easy to use interface. You only have to enter the URL in the search bar and you will see detailed information about the website in no time. This report will give you an overview of things like organic search traffic the website receives, the domain authority, competitors websites etc.
You can also apply the filter to view the traffic stats for the year, last 30 days, or all time. This tool only shows organic search data. Any information about the traffic from other sources like social media is not included. 
At first, you can start with a 7 day trial that costs $7 and then the plans start at $99 per month. 
Wrapping Up!
Hopefully, this article has helped you to understand what is the need of a tool to check website traffic in WordPress. If you are in a situation when you cannot decide which one to choose then you can take help from the list of top 5 website traffic checker tools. 
Still have some doubts about this? To get some expert advice you can call us on 1-866-332-O276. Our team of WordPress experts will assist you with all your queries.
FAQs:
QA: What is the need to check website traffic?
By keeping a track of your website's traffic, you will get to know the number of people who visit your website in a day, a week or a month.
QA: What information do we get about our website using a website traffic checker tool?
Ans: When you monitor your own website traffic, you will get to know if your SEO, social media, and other traffic generation strategies are working or not.
QA: Is it possible to track website traffic for free?
Ans: Yes, there are a few free tools available that allow you to check your website's traffic free of cost.
QA: Why do we need to check the traffic of competitor websites?
Ans: This gives an idea what other people are doing to get traffic. You can use this information to create a strategy plan for your website and bring more traffic. 
QA: Can we perform competitor research using a website traffic checker?
Ans: Yes most of the traffic checker tools allow you to do competitor research as well.