If you are running a WordPress website then at some point you must have felt the need to add some extra content or functionality. But who wants to dip their hands in the source code every time for doing this? Noone, right? So the good thing about using WordPress as the website building platform is, you can do such things without even touching the code or having to write some extra code. For this, you will have to use widgets. They are one of the most useful elements in WordPress. With the help of a widget, you can effortlessly add the desired functionality and extra content to your website. At this point, you must have started wondering How to add widgets to WordPress or How to use widgets in WordPress.  
This is just the right place where you are going to find the answers to all your queries about WordPress Widgets in great detail. 
An Overview of WordPress Widgets:
In simple words, widgets can be defined as the snippets of content that are not involved in the flow of the page or post content. They can contain some type of information, navigation or media that is not in the post or page on which you are adding the widget. Generally, each widget can be seen on every page of the website. But you also have the option to put widget areas for specific pages. 
If you are wondering How to add new widgets to WordPress then do not worry. It is an easy thing to do. In order to do this, you will have to add the widget to the widget area by dragging and dropping. Every WordPress theme creates these Widget areas for the website. 
When to Use WordPress widgets?
The need to use a widget arises when there is a requirement to add some extra functionality or content to your website. You can make this addition to either the entire website or some specific pages. Whatever content you will add using widgets will not be a part of the actual content of that page or its flow. The place on which you add the widget depends on your requirement. First of all, you will have to figure out how many users you want to access.this widget. And then put it accordingly. If it is an important one and you want most of the users to access it then sidebar will be a very good option. And if the widget is relatively less prominent than you can put it into the footer. 
There are different types of widgets that you can use on your website. Just name the functionality you want to add and you will find a suitable widget for that. There are some pre-installed widgets also. These widgets come with WordPress by default. Pre-installed WordPress widgets are:
How to Add a Widget?
Widgets are very easy to use and in order to add them to your website, you do not have to put any extra effort. All you have to do is, drag and drop them into the widget area of your theme. 
To see the list of all the widgets that are available on your website, you have to navigate to

Appearance > Widgets

from the dashboard.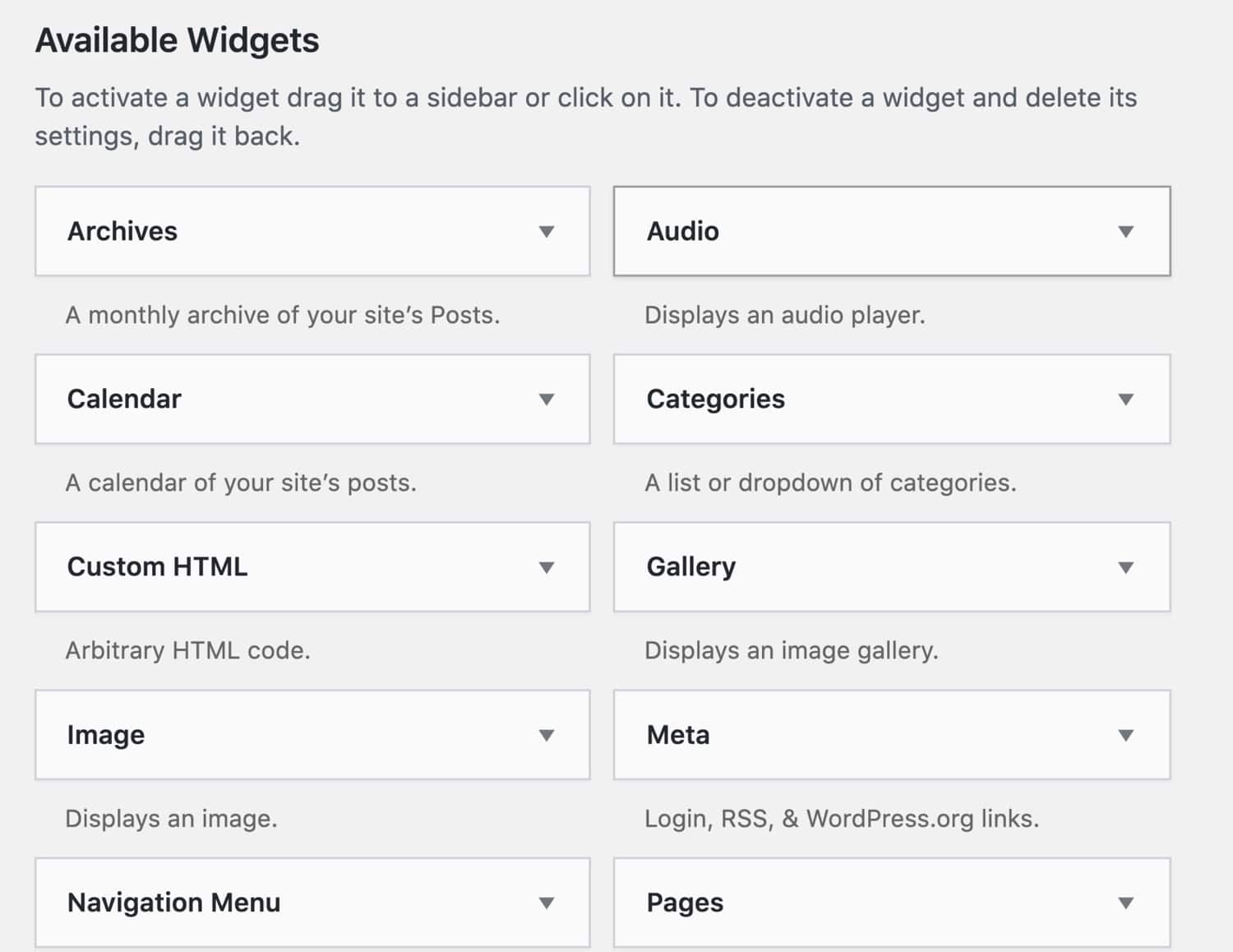 Now you will be able to see all the widgets that are installed and available to use. Each widget that you have installed will have a short description This gives a hind about its purpose and use.
To add the chosen widgets simply drag and drop it from the list to the widget area.

If you want to rearrange them then you can also do that by moving them up and down. 

You can see the specific settings of the widget after adding it. 

To store the widget settings, click on '

Save

'. 
How to Remove a Widget?
Undoubtedly widgets can prove to be very useful elements for your website as they help you with so many things. But this is also an undeniable fact that if you use too many widgets then you will end up cluttering the website. And this is the last thing you would want to do with your website. And if you have too many widgets then it also makes them difficult for you to find them. In such cases, disabling or removing a widget is the option you are left with. To do this, you will have to:
Go to the website's dashboard and then navigate to '

Appearance

'.

Now you will see a list of all the installed widgets.

From here you can choose the widgets you want to disable and then click on '

Save Changes

'.

This way you can disable the widgets that you do not want to appear on your website. If you will need them in future then you will also have the option to enable them again. 
---
Wrapping Up!
Widgets are incredible elements that make the process of adding some extra content or functionality to your website. At this point you must have understood the fact of how important it is to have a widget in WordPress. If you are wondering How to add widgets to WordPress then you do not have to worry. Here we have explained everything related to WordPress widgets in great detail.
If there is any doubt in your mind related to WordPress Widgets then at this point, you should consider taking some help from WordPress security experts. If you are wondering that from where you can get the help you need then you do not have to worry. You can contact us on 1-866-332-O276. We are available 24×7. Our team of experts will be more than happy to assist you in every possible way. 
---
FAQs:
Is it possible to add a widget with the help of a plugin?
Yes, it is.
Does WordPress offer some pre-installed widgets?
Yes, you get many pre-installed widgets by default.
Are plugins and Widgets the same?
No, both of them are different from each other.
What are the places on which you can put widgets on a website?
Sidebar, footer etc.