The importance of having a fast load time for your WordPress website is immense. The bounce back rate is 25% if your website does not load for less than 4 seconds! Which means for improved conversion rates, better sales, and enhanced customer satisfaction, you need to have a quick loading time. But how do you judge that? For that, you need speed test tools. And now, you do not have to go any further my friend, we have compiled a list of the best WordPress speed test tools.
All these tools make the performance of your website escalate. These are helpful for both beginners as well as the more advanced users. Let us dig into all the best tools that can help you test your site speed efficiently! Additionally, we have also provided tools that test the loading time in mobiles specifically. It is important to understand that most of the visitors browse the internet over their phones and thus having a fast and responsive website on it is necessary.
---
Best WordPress Speed Test Tools | Compared For The Best Results In 2019

1. Pingdom
Best For: Casual Testers as well as Developers
Get it For: $11.95 Onwards Per Month


When beginning a discussion on the best WordPress speed test tools, this one is bound to start it. It is one of the most used tools.
It solves the purpose both for the beginners as well as the advanced users. For the former, they are able to access all the basic information they want to get started with. For the latter, they can get a lot of advanced, complex data on the speed that they can later make use of.
All you need to do is paste the URL, choose the location to run the test from and just begin the assessment.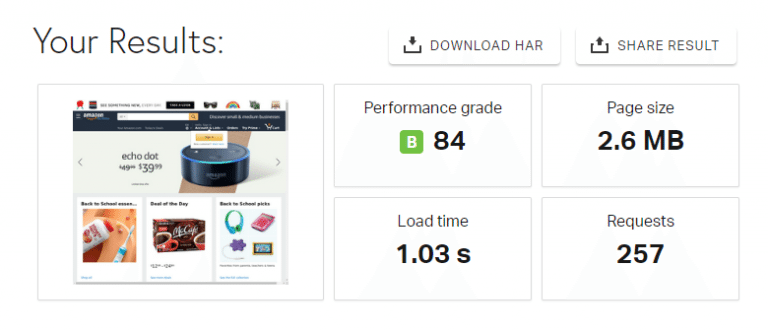 You have a summary box, that can give you all the necessary and important information that you need as a beginner. This will include the exact load time and performance grade.
You can then get an analysis of the strengths and weaknesses of your website. Expansion of each can give you a complete analysis of the fine details.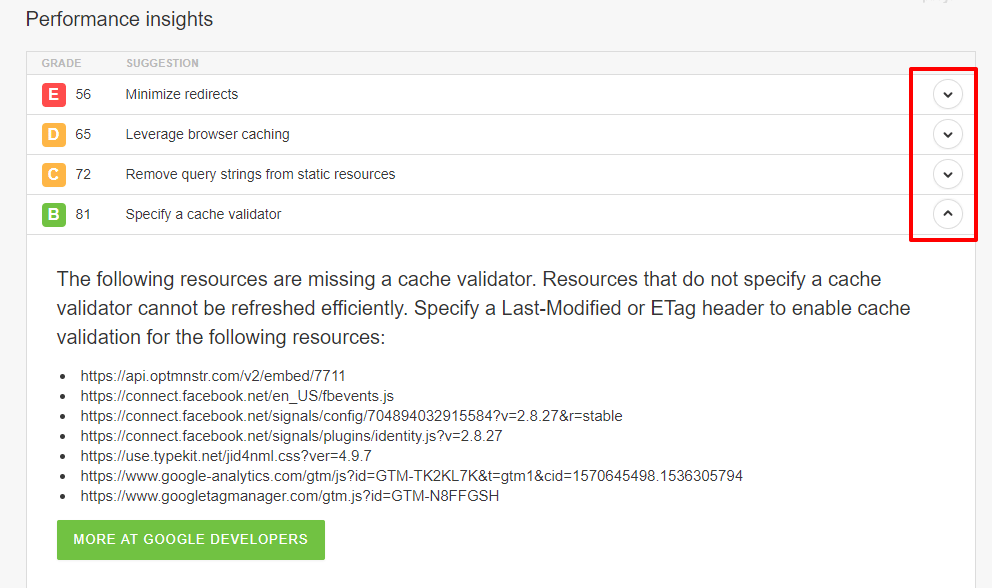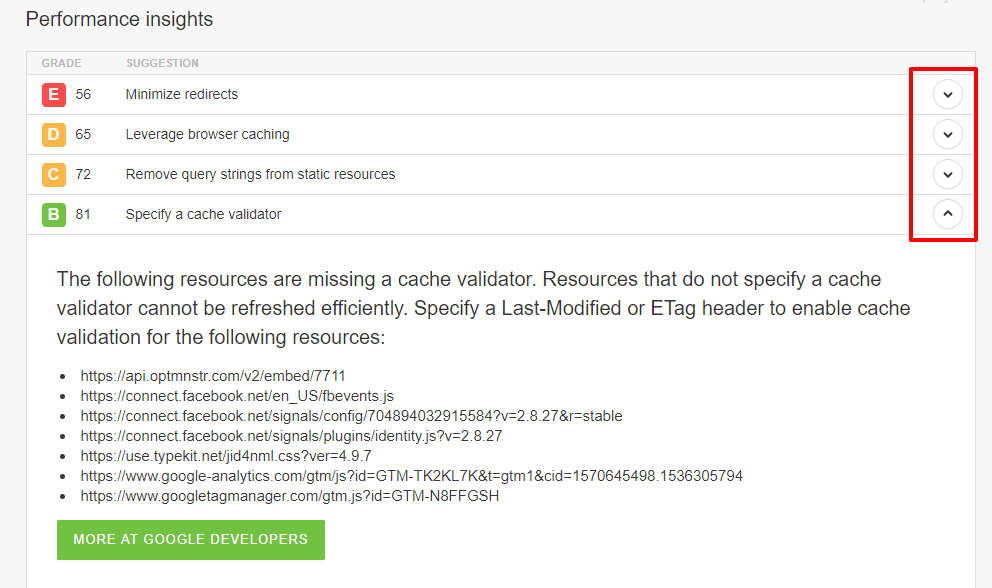 This plugin works wonderfully on many levels as it has an intensive and deep analysis at multiple levels. For a user who wants a basic crux of the analysis has data suitable to them, and for those who want an advanced report have everything for themselves.
---
2. GTmetrix
Best For: Works for Desktop testing of the website.
Get It For: Free/ Pro Version: $14.95 onwards
If you are looking for a tool that is beginner friendly but provides in-depth data too, then the GTmetrix Speed Test is for you. The specific niche it supports is that of testing the desktop version of your website.
Its working mechanism is simple; you need to add the URL of your website and click "Analyze"! That is it.
You will then receive a detailed analysis of your website. The top of the analysis has a gist summary of all that you are required to know as a beginner. It includes loading time and page speed scores.
For the more advanced users, you can dig in deeper and get to know more details of the analysis.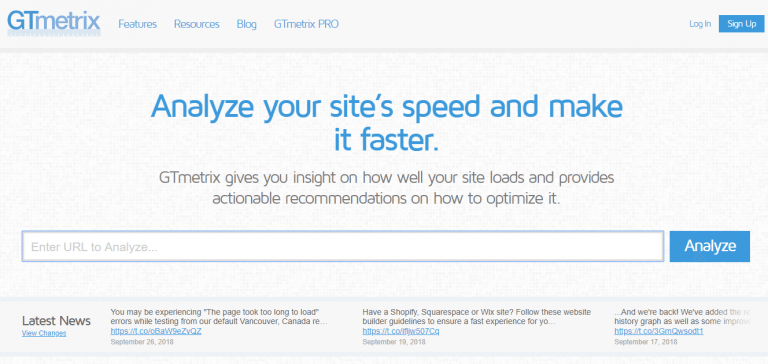 There are many suggestions that are listed for you to see, you could expand any and get a more deep understanding of that point.
You have a "What's this mean" button that can come in useful when a user has any doubts regarding the analysis in any way.
A little element of caution for the users. Pingdom and GTmetrix, both calculate the page load time, but their means of doing so is distinct from each other. There are chances that the same website when analyzed on both the platforms, shows a slower load time on GTmetrix speed test.
If you want to go with assessing the desktop version of your website, then GTmetrix speed test, then you can install it from below:
---
3. WebPageTest
Who Is It For: Testing both desktop and mobile performance for beginners as well as advanced users.
Get It For Free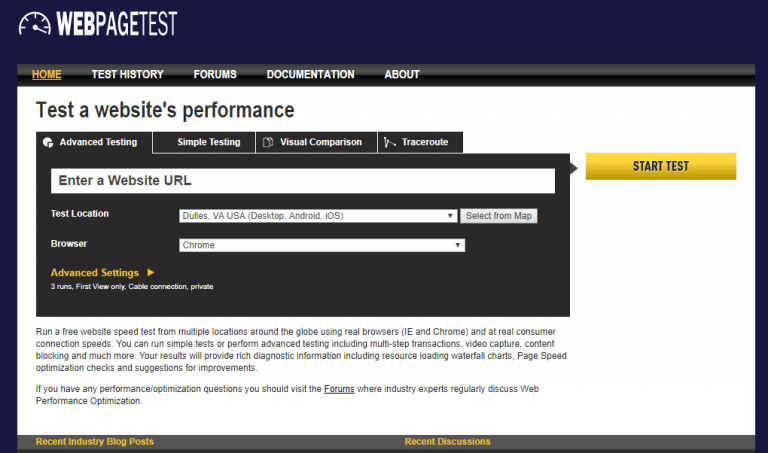 If one is looking for an advanced test tool, then this is the one for you.
The data this tool provides and the functionality it has is much deeper than the ones that we have discussed before.
This pro for the advanced users, is a disadvantage for the new users, as it has a learning curve involved before understanding it. It is a little on the tough side for the new WordPress users who do not have that defined technical know-how.
Setting up a test is simple with the WordPress Speed Test Tool, but the advanced settings can be used in many ways. Some of them are to mimic a user on a slow connection, change the number of tests that can be run, choose the browser and the device type and a lot more.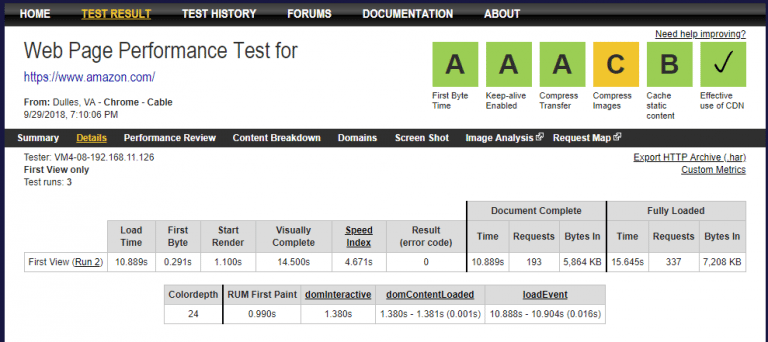 If that is too much for you, you can begin with the 'Simple Testing'. When here, this best WordPress speed test tool automatically runs the assessment 3 times to ensure accuracy.
Even when the basic test is done, there is a lot of helpful data that you can benefit from.
---
4. Google Mobile Speed Test
Who Is It For: For beginners who want to test the mobile version of their website.
Get It For: Free
Web Page Test has powered this WordPress speed test.
But where it moves forward from the other one is that it has made all the plethora of data is presented in a more easier and accessible manner.
For users who are beginners and want the same detailed analysis but in a way that is legible and useful to them, this is the tool to go for.
The working mechanism requires them to add the URL, then Google determines the time it took for your website to load using a mobile device and a 3G connection.
You can also access a free report that has a detailed analysis of the assessment and a list of tips that you can adapt to speed up the mobile version of your website.
Needless to say, this WordPress speed test works for mobile devices exclusively.
---
5. Google Page Speed Insights
Who Is It For: For Recommendations from Google
Get It For Free

Google Page Speed Insights has moved ahead from just giving suggestions to actually giving you a numeric value of how long your website took to load.
Google now gives a real-time load assessment of both First Contentful Paint (FCP) and the DOM Content Loaded (DCL). This is basically the two ways of computing the time your website takes to load. The first means the time the website takes to paint the content on the screen. The latter means the time which shows when the DOM is ready.
There are various testing parameters, and it gives an analysis for both the desktop as well as the mobile devices.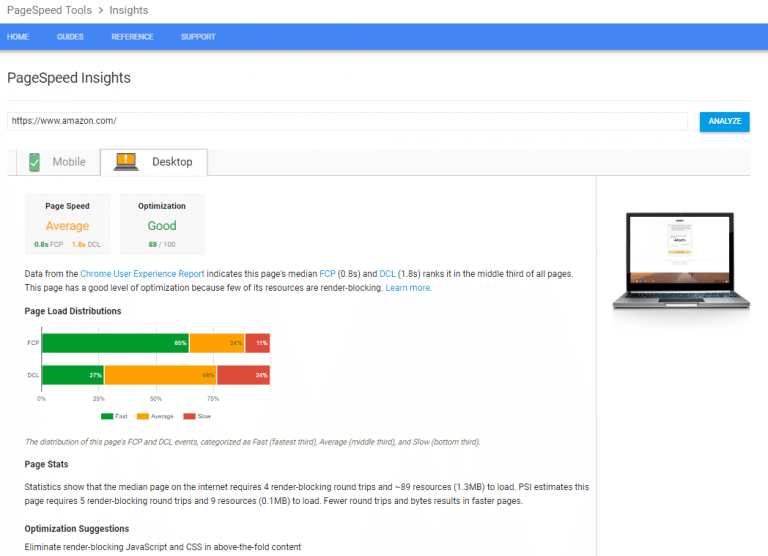 The first set of the bars signify the FCP and the second represents the DCL.
The same analysis also suggests the possible optimizations that can lead to better results.
---
6. YSlow
Who Is It For Determines the website speed through 23 factors.
Get It For: Free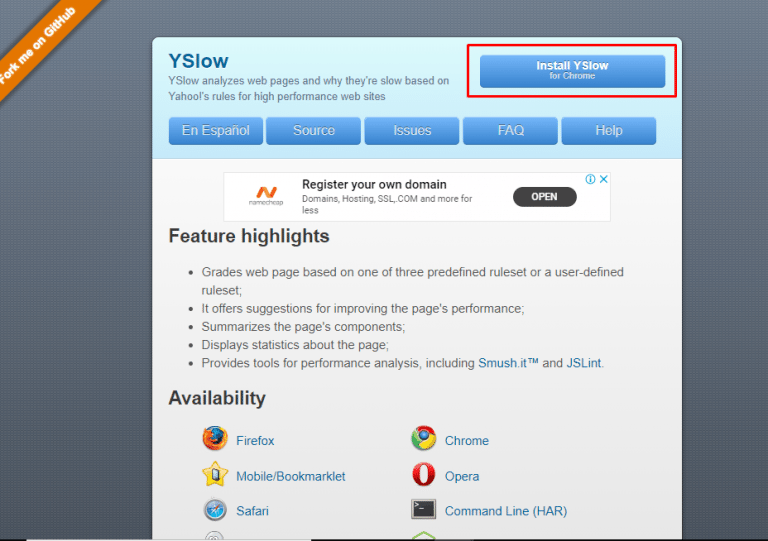 YSlow is a WordPress speed test tool by Yahoo. To use it you have to use the browser extension.
One can visit the website and download the extension.
You can test your website through 23 key metric factors.
The YSlow website analysis also has a suggestion to improve the shortcomings of your speed.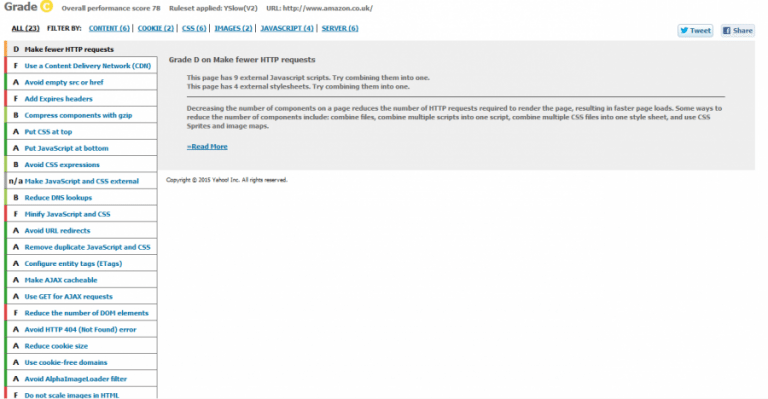 ---
7. New Relic
Who Is It For: Used for Application Performance Management (APM)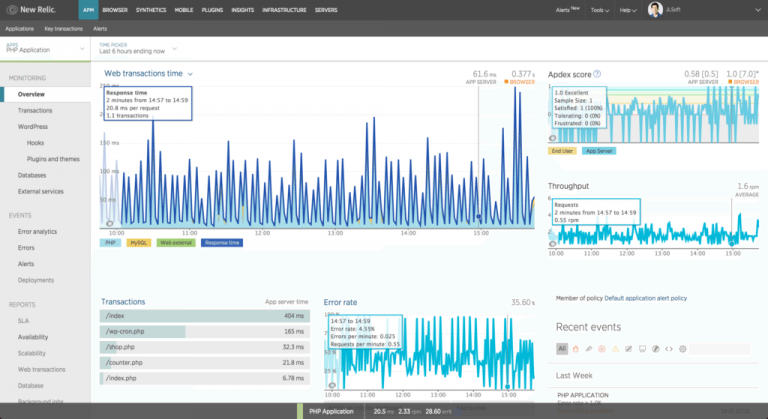 This tool is modernized and has a lot of different performance monitoring metrics.
It is powerful enough to highlight even the most minuscule issues caused by a plethora of issues on your website.
The dashboard contains tabs for different reports. The dedicated WordPress tab helps you get an in-depth knowledge of the WordPress related activities and components, be it themes and plugins.
You can also do database monitoring and analyze its behavior and functioning. There is the SLA (Service Level Agreement) that shows the performance of the website in a selected period of time.
New Relic is a great tool when there is even a slight change in the website's performance and behavior.
---
8. UpTrends
Who Is It For: Easy to use for both desktop and mobile
Get It For: $16.67 Onwards per Month

This is a simplistic and easy to get a hang of WordPress speed test tool.
The clear advantage it has that it can be worked on different locations so that you can get a real-time determination of the site speed in different locations.
The assessment can be carried on both the desktop as well as mobile.
The analysis is an over-arching and a complete analysis of the website in question.
---
9. Yellow Lab Tools
Who Is It For: customize testing parameters
Get It For: Free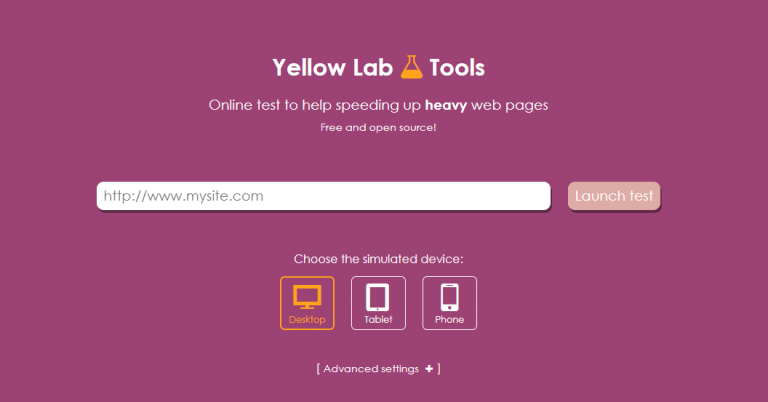 The WordPress site speed test tool is used to create a custom testing environment.
The user can define the author credentials and cookies. One can also determine if the website is password protected, or block a domain while carrying out the testing.
There is a colorful scorecard for the website assessment.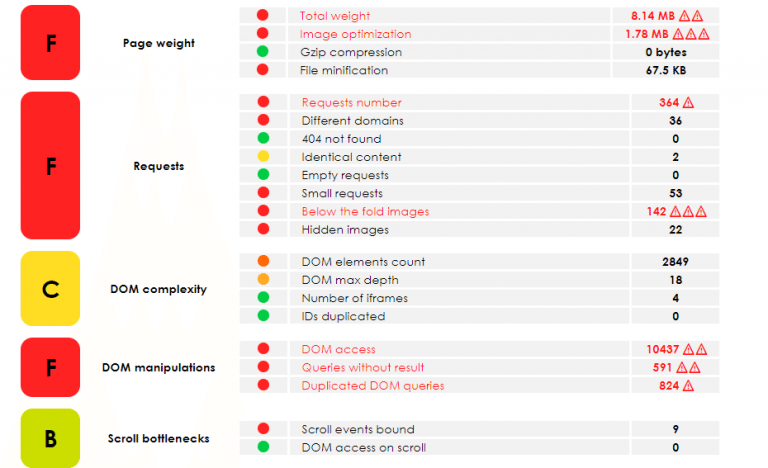 ---
Things To Follow While Using WordPress Speed Test Tools
While testing your website there are two things to keep in mind.
Test Location Determines Test Results:
As we have seen in the tools above, you can determine the location from where you want to run the test. This is a deciding factor in terms of the results you will achieve your assessment.
The test location should always be what is closest to your majority audience.
It is important to determine that the website loads quickly in all locations, but for the closest accurate assessment, it is integral to keep the bulk audience location in mind.
If the content loads slowly in certain locations, you can assess the CDN in those places.
Load Time Is Not Similar In All Tools:
We had begun the article by saying that Pingdom Page speed test will show a faster loading time than GTMetrix speed test.
What loading time means for different tools is the main thing. Some consider loading time to be when all the content is available to the visitor even if there is some activity that is going on in the background. The others consider this to be a when everything is 100% loaded and there is no more background occurrence.
---
Wrapping Up:

To wrap our discussion up, it is important to always be on the top of your game when it comes to the speed in which your website loads. Making sure that it stays excellent when it comes to the user experience. It is easier to determine it when it comes to these WordPress speed test tools.
How did you find our compilation of the best WordPress Speed Test tools for 2019? Have you been using any? Let us know in the comments section below.