On August 11, 2020, WordPress launched its all-new version 5.5. This is the second WordPress release of this year. It came with tons of amazing features and improvements. The major focus of this update is on the block editor of WordPress. At this point you must have started wondering what is new in WordPress 5.5. You do not have to worry as here we are going to discuss all the bug fixes and new features that this update includes.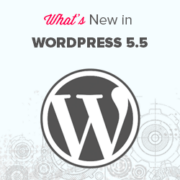 A Detailed Overview of  WordPress 5.5:
WordPress 5.5 is a major release and if you are using a managed hosting service for your website your software will install the update automatically. If for some reason it does not then you can perform the update installation manually. Before starting the update make sure that you create a backup of the most recent version of your website. Here we are going to mention what is new in this update.
When you work on your WordPress website, block editor is the element that you use the most. Each of the WordPress releases includes some improvements for the block editor. And this update is no different. With WordPress 5.5 you will be able to see some significant changes in this. And this will help you to make the most out of it. 
Integrated Block Directory:
This version of WordPress offers an integrated block directory. Now if you want to add a block that is unavailable then it will start showing some suggestions from the block directory. This directory is a wide collection of tons of plugins. These plugins serve the purpose of adding different types of blocks. 
Changed User Interface:
It is one of the most important changes. The visual experience of the block editor is much better in WordPress 5.5. It includes improved borders and highlights so that you can access it very easily. The 'Add New Block' button has a completely new look. Now it is more noticeable. 
Image Editing Options:
With this update, you can also easily edit the images inside the block editor. You can make all the required changes to the height, width, aspect ratio of the image. And you can also crop and rotate the image within the editor. And you still have the option of performing basic editing of the image in the media library.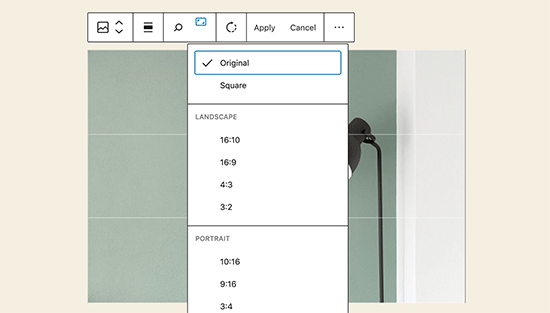 Block Patterns:
This update of WordPress introduced block patterns. It already had reusable blocks also so that you could reuse the most commonly used ones after saving them. In this new feature, you can easily save the commonly used blocks with their pre-configured settings. And you can quickly use them. This helps you to create a page layout with a consistent style. 
Improvement in Block Navigation:
When you were new with WordPress, you must have faced some issues with block navigation. And this is even more difficult when you use nested blocks like groups and columns. In such a scenario, you might face some issues in selecting the parent block or when you want to move a child element into it. This update has improved the overall block navigation. To move a particular block all you have to do is, grab a handle then drag and drop it. 
Auto-update Themes and Plugins:
In this update, the auto-updation of WordPress themes and plugins is introduced. It is done while keeping the security reasons in mind. For plugins, you have to go to the Plugins page and then enable auto-updates. For themes, navigate to Appearance > Themes and then select a theme. In the theme overview popup, you will see an option to enable automatic updates.
Upload New Versions to Update Plugins:
In WordPress 5.5, you only have to upload the new version of a plugin in order to update it. Go to Plugins > Add New and then upload the new version. It is as simple as uploading any new plugin zip file. After this you will be able to replace the current version with the new version. 
Lazy Loading:
This update also comes with the amazing feature of lazy loading images. In this process, only the images that are visible to the user get loaded, and the loading of other images is delayed. In WordPress now it has become a default feature. Now for all websites, the 'loading' attribute is added to the IMG tag. This attribute is supported by all the popular web browsers excluding Safari. This helps you to improve the overall speed and performance of your website.
Default XML Sitemaps:
With this new update, now the XML sitemaps of your website will get automatically published. An XML sitemaps contain the list of all your website's content in XML format. This way Google and other search engines can easily discover and index your website. And default XML sitemaps will definitely help to boost the SEO of your website. This new feature is of no use for you if you are already using a plugin for SEO plugin or a Sitemaps plugin. This is because these plugins will disable this feature and the XML sitemaps will not get published.
---
Wrapping Up!
Whenever a new update is introduced, we all get excited about the features and improvements that it contains. The same goes for WordPress 5.5. Here we have explained the WordPress 5.5 in a detailed manner. We have listed out all the major features and bug fixes here.
At this point, you must have a clear understanding of WordPress 5.5. But no matter how much detail the explanation is, it is always possible to have a few queries in mind. If you also have some then you can get your answers from our professional team. You can contact us on 1-866.332.O276 for support and backup. We work around the clock. 
---
FAQs:
Does WordPress 5.5 come with lazy loading?
Yes, it offers lazy loading for images.
Will I get default XML sitemaps after installing this update?
Yes.
In WordPress 5.5, can we update a plugin just by uploading a new version?
Yes.
Does this update include block patterns?
Yes, it includes block patterns. 
When was WordPress 5.5 launched?
On August 11, 2020.