This is an era that has everything online. From ordering food to shopping for clothes, we can do almost everything with just a click. But the question is, how do you make sure that a particular website is offering good quality products or services. Here is the answer. You read the reviews given by existing customers and figure out how they like this service. Online Writing WordPress website reviews play a major role in helping you make the decision. This fact remains the same regardless of the type of website you are using.
Here we are going to discuss why writing reviews is important on WordPress websites.
WordPress is an open-source platform and the community is ever-growing. It is supported by so many developers and designers. They are working constantly to make this platform even better. From time to time, they keep introducing new plugins, themes, and WordPress version updates. Therefore, by writing reviews you can help other users to figure out which plugin or theme is for what purpose. With the help of reviews given by you, other users will be able to pick plugins or themes that are suitable for their website and serve their desired purpose. With WordPress help, you can write reviews for different WordPress products including plugins or themes. 
Basically, there are two different platforms in WordPress: WordPress.com and WordPress.org. 
The first one allows you to create a website for free. But it also has a number of restrictions like subdomain names and limited plugins. This platform also gives you complete plugin support. If any of your plugins stop working then you can easily get support and fix the issue. 
WordPress.org is an open-source CMS platform. It offers more than 50,000 free WordPress plugins and also a multitude of free themes. You can easily use any of them on your website. In the plugin or theme directory, you will be able to find reviews for all these products. These reviews will help you to figure out if a particular theme or plugin is suitable for your desired purpose. Although they provide support for your technical issues, they are not bound for this. 
Why Are Reviews Important?
When you write a review about a theme or plugin that you have used previously, you are actually sharing your experience of that product. And your experience will help other users who might use the same plugin or theme. This will give them an idea about the performance and features. So basically your reviews will help other users to make the right decision. 
When choosing a product, almost every user focuses on its star ratings and user reviews. And they never go for the ones with fewer stars or bad reviews. So this process of writing reviews is useful for users. But it equally helps the development team of that product as well. With the help of reviews, they will get to know the genuine user feedback of their product. This will help them to fix the bugs and make the product better. 
How to Write Reviews?
The process of writing reviews for a WordPress product is very easy. It contains a few steps:
First of all, log in to your WordPress account. 

Now navigate to the plugin and themes directory on WordPress.org.

Here you will have to click the register link. 

Once you have logged in, go to the plugin page and click on reviews. 

Here you will find other reviews as well. 

After scrolling down, you will see an option to create a new review.

In this section, you can write a review and give a proper title to this. 

Once you are done, just click on 'Add Your Review'.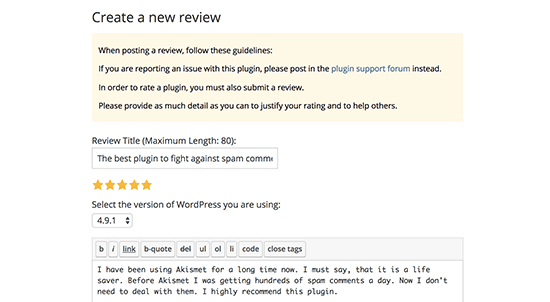 WordPress Review Plugins:
If you are running a website where you also have to create content for your readers then reviewing WordPress themes and plugins is also a great option for you. Here we have mentioned a few plugins that you can use to write reviews. With these plugins you will also be able to present reviews of your products and services on your website. You can also collect and display the reviews or testimonials of your customers. 
WP Product Review Lite:
This plugin comes with a lot of amazing features that you can use. With this, you can also review individual products. You can also give different details about those products. And if you want, you can create a list of pros and cons in the review. This plugin gives both the author and visitor a chance to communicate. They can share their genuine feedback about any product. 
WP Review:
This plugin is somewhat similar to the above-mentioned plugin. With this plugin, you get complete freedom if you are a visitor. This plugin can calculate the average votes based on the ratings provided by the visitor.
Author HReview:
This plugin is only for the site owners. Visitors cannot use this plugin. You can give the ratings to the products as stars. With this review plugin, you can easily add product reviews on your WordPress website. 
---
Wrapping Up!
By writing reviews, you can help many users select a good quality plugin or theme for their website. Remember, once you write down the review and the problems are resolved by the developer in the new update, make sure to close your review. We hope this article tells you the importance of writing reviews on WordPress.
After reading this blog you must have got clarity about this. But if you still have some doubts, we are just a call away. Many skilled WordPress professionals are working with us. They will assist you with your queries. We are available on 1-866-332-O276.
---
FAQs:
Is writing a review important for a website?
Yes, it helps other users also to make their decision. 
Is it possible to write negative reviews?
Yes, you can also write negative reviews for a product if you have had a bad experience.
Is there any plugin for this purpose?
Yes.
Name a few good review plugins.
WP Product Review Lite, WP Review, Author HReview etc.
---
Other Blog you might wish to read: