Want to transfer your WordPress website to a different domain? The reason for this could be anything like you want to increase your website traffic, having some issues with the existing one, etc. If you have already got a domain name with another provider and now you want it to use with your WordPress website then you will have to transfer the domain to WordPress. This way you will be able to manage your domain and website in one place. For this, you will have to follow a process. Moreover you can also transfer a WordPress site to a new domain.
Why we Need- Transfer the WordPress Site to a New Domain?
There are a lot of things that can make you feel the need for transferring your existing domain to WordPress.com. The reason could be:
You are not happy with the services of your current domain provider.

There is a need to consolidate your things.

You are only doing it for a change. 

Or you want to make the management of your website and domain simpler. 
---
What happens when transferring the domain?
When you transfer a domain name then your registration gets transferred from the current service provider to WordPress.com. All you have to do is initiate the process of transfer and WordPres will take care of everything. You will be provided with renewal, cancellation or any other settings for managing your site efficiently. WordPress.com also takes care of all the DNS management.
---
How to Transfer Your Own Domain to WordPress:
Prepare the Domain:
Before starting the process of transferring your domain name or transferring domain to wordpress you have to perform these two steps on your current service provider. 
Unlock the Domain: Every domain provider puts a lock on the domain. They do this for security purposes. This way they are able to protect themselves against any unauthorized changes, for example making transfers. This lock has another name which is the registrar lock. If you want to initiate the process of transferring the domain name then you will have to get it unlocked. You will see an option on the domain management interface. In some exceptional cases, you need to contact the domain provider so that they can remove the registrar lock.
Get the authorization code for domain transfer:

WordPress.com will require an authorization code in order to start the transferring process. This code is provided to you by your current domain provider. This means that they are allowing WordPress.com to get the domain on their server. This authorization code is usually called the EPP code. 
---
Steps of Transferring the Domain:
If you are running two or more websites then before starting the process transfer domain to WordPress or transfer domain name to WordPress you will have to choose on which site you want to perform this transfer. For doing so, you have to go to My Sites > Switch Site. 
Step 1: You have to visit the Domains page. For this you will have to go to My Sites > Manage > Domains.
Step 2: Click the 'Add Domain' button. You can find this button on the top right side of the domain list.


Step 3: Now select 'Use a domain I own'.


Step 4: On the next page, select 'Transfer to WordPress.com'.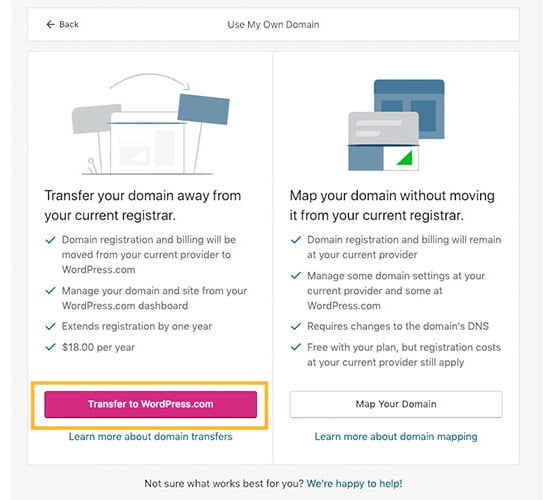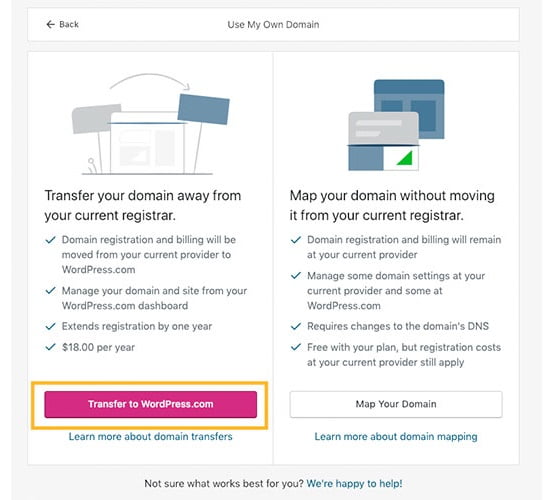 Step 5: Enter the domain name you want to transfer and click on 'Transfer'.


Step 6: If you are doing this while creating a completely new website then you will directly go to the checkout page. Here you need to complete the checkout process. After that you can continue the transfer. For this you have to go to My Sites > Manage > Domains. Then choose the domain name you want to transfer and then click on 'Start Transfer'.
Step 7: The next page is to confirm whether your domain is unlocked or not. If it is still locked then you will have to contact your current service provider. 
Step 8: Now enter the authorization code you have received from your current domain provider. After that click on the 'Check my authorization code' button.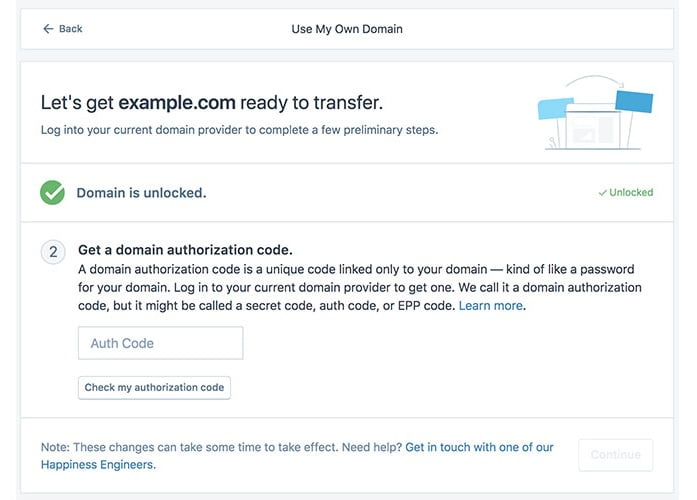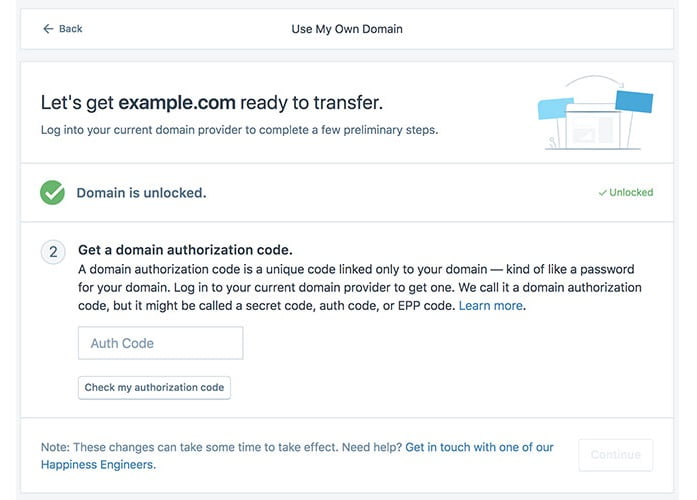 Step 9: In the next step, click on the 'Continue' button.
Step 10: Before checking out, you have to check the contact details that you have provided. If everything is correct then click on the 'Continue to Checkout'. And then you can pay for the transfer process.
Step 11: If your payment is successful then you will see a confirmation message on your screen. You will also get a confirmation on your mail. Your domain transfer is in progress and will get completed in 5 to 7 days.
---
How to Check the Transfer Status?
Now you must be wondering about the process of checking the status of your domain transfer. If the transfer is failed then you will get a notification via an email. There will also be a notice appearing on the domain screen stating about the failed transfer.
If your domain transfer is failed then you will have an option to restart it. Or you can also cancel it and request a refund. There are a few statuses then can be there when you enquire about your domain transfer. 
Waiting for Transfer

In Progress

Failed
This is all about transferring your domain to WordPress. If you follow proper steps then you can easily transfer WordPress site to new domain.
---
Wrapping Up!
If you are planning to transfer WordPress site to new domain or WordPress com transfer domain then there is no need to take so much stress. For your convenience we have explained the detailed process in the above blog. To make things much simpler for you, we are breaking down the process in total eleven steps. To make a successful domain transfer it only requires you to be a little careful while performing each of these steps. There is also an option for you to go back to the original version until the final step. You can take that path if something goes wrong and then start over again. Still not sure how to start? Then you can also take some help from experienced WordPress professionals.
You do not have to worry if the need for any professional help arises. We are just a phone away from you. We have a large and dedicated team of WordPress experts who can help you with everything related to WordPress. If you have any queries about WordPress update services, WordPress security, etc. then also we can help. You can contact us on WordPress Customer Service Phone Number 1-866-332-O276. We are available 24×7.