When you create a website to bring your business online, web hosting is one of a few things that you need to focus on. Web hosting is responsible for storing the data and making it accessible for the users across the world. If you want your business to have a profitable online presence, you cannot deny the importance of a good website hosting service.
Why It is Important to Have a Good Web Hosting?
There are plenty of reasons why you should invest in good web hosting for your website.
Makes Your Website Faster:

If you want to build a loyal audience for your website, speed is one of the most important things you should take care of. Nobody wants to be on a website that takes ages to load. Speed of a website depends on a few different factors and web hosting is one of them. Undoubtedly, a faster website means better user experience. 

Less Website Down Time:

A good web host ensures that your website never suffers by being disrupted or unavailable for users. This results in less down time and can save you from losing customers, revenue and most importantly, their trust.
Better Security:

When you use hosting with a secure IP address, it means your website is secured and all the sensitive information is protected. This is also known as SSL (Secure Socket Layers). Now any data that will pass through your website is automatically encrypted. 
Frequent Backups:

A good host will take regular backups of your website. This way you will be able to recover your files if you delete them accidentally. In case of an attack or issue, you can easily get your website up and running using these backup files. 
Domain-associated Email Address:

When you use a good hosting service, you will have the option to create your own specific domain email address.
Search Engine Rankings:

If your website is down for long periods then it can have a negative impact on your website's search engine rankings. When you use a good web hosting, your website is less likely to have downtime and it helps you to gain higher ranking on search engines.

Constant Support:

There can be instances when something goes wrong with the website. If that issue is related to hosting then this is something you do not have any control over. In such cases, you will get better support from the hosting service provider if you are using a good one. 
What Determines a Good Hosting? 
The main question is, how to decide whether a hosting service is good or not. The hosting you choose for your website should be reliable, fast and secure. There are a few other factors that you should keep in mind while making your decision. 
Here is a basic checklist of elements that you should look for in your hosting service:
Speed

Security

Available Storage

Ability to Scale

On-page SEO

Conversion Optimization
Best WordPress Hosting Providers:
For your convenience, here we have compiled a list of 10 best hosting providers. Every website has different requirements, you can choose any of these 10 depending on your website's requirements.
If you are looking for an optimized web hosting at an affordable price then Hostinger can be a great choice. The plans start at a price of $1.99 per month. Even the lowest plan will include all the features and resources that are necessary to get a website off the ground. 
This is beginner-friendly. You will be able to set everything up even if you are not a tech-savvy person and just starting out.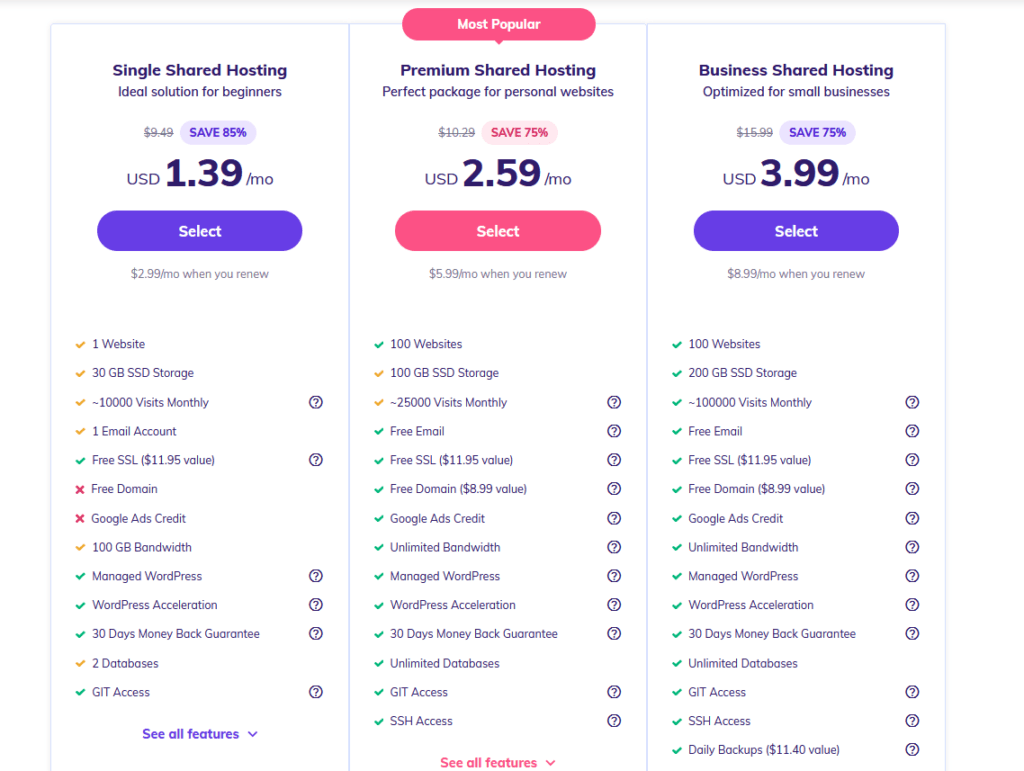 Bluehost is offering great shared web hosting solutions at reasonable prices. If you are new to website building then you can also get tailor-made hosting solutions to fit your unique needs. 
Shared hosting plans start from $8.99 per month. If you are a new customer then you will get some discount also. The best thing about this hosting service is, they provide constant support. If you have any issues, they are available 24×7 on phone or live chat.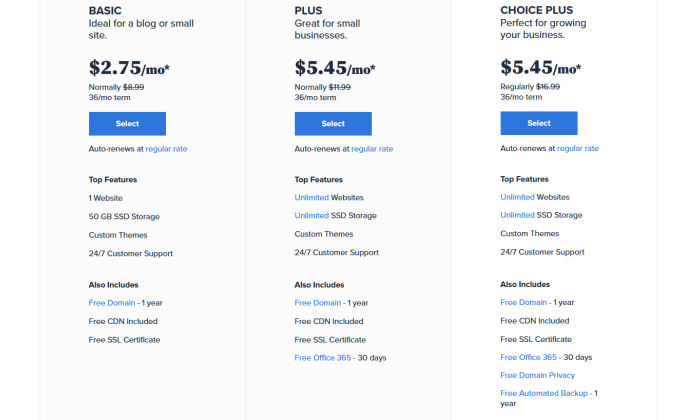 DreamHost is a great option if you are looking for a hosting service provider with good performance and monthly pricing plans. Their monthly plans start at $4.95/month. The starter plan includes 1 website with unlimited traffic, along with a free SSL Certificate.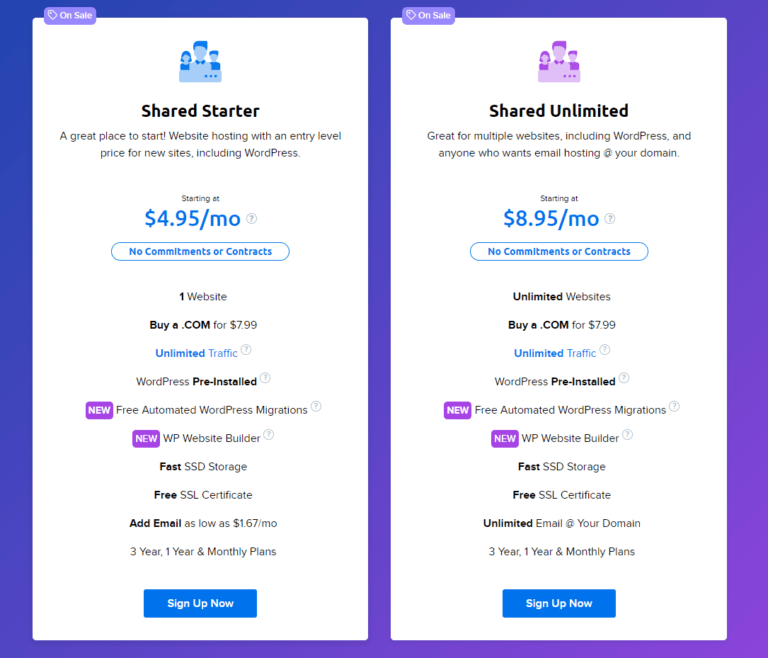 Unlike other hosting services, they do not use the standard cPanel. Instead, you get a completely custom control panel to manage your website. If you are someone who wants more control over your website then it is an ideal option for you. 
Also Read About: What is the Latest Version of WordPress
If you are in the process of creating a simple website and do not need any extra features then Hostgator can be a great choice. This hosting is more suitable for websites where you just need a visitor's contact info or the ones with an about page or with a landing page to collect leads. You can get a hosting solution at an affordable price. The shared hosting plan starts at $2.75 per month.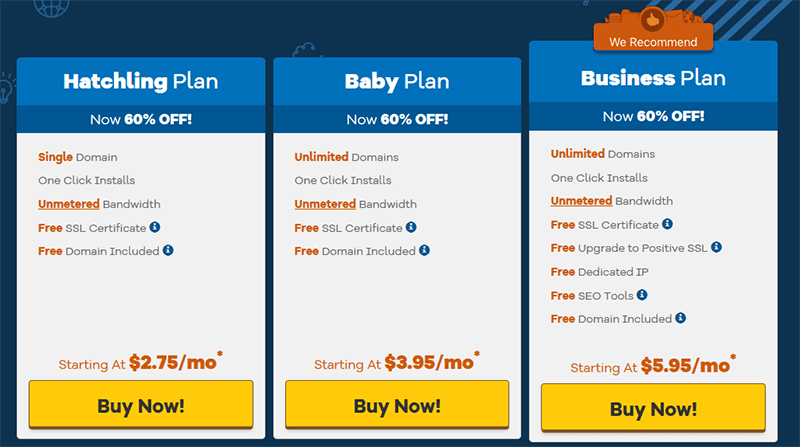 Hostgator provides constant support as well. Whenever you get stuck somewhere, you will have an extensive list of how-to guides to take help from. Or you can also contact their support team via phone, live chat, and email.
This hosting service helps you to make your contribution in saving the planet as well. It is an eco-friendly option as they have used renewable energy to power their web hosting services.
They are providing top-notch web hosting services also as they offer fast speeds and solid uptime at affordable prices. You can choose any of their shared hosting plans.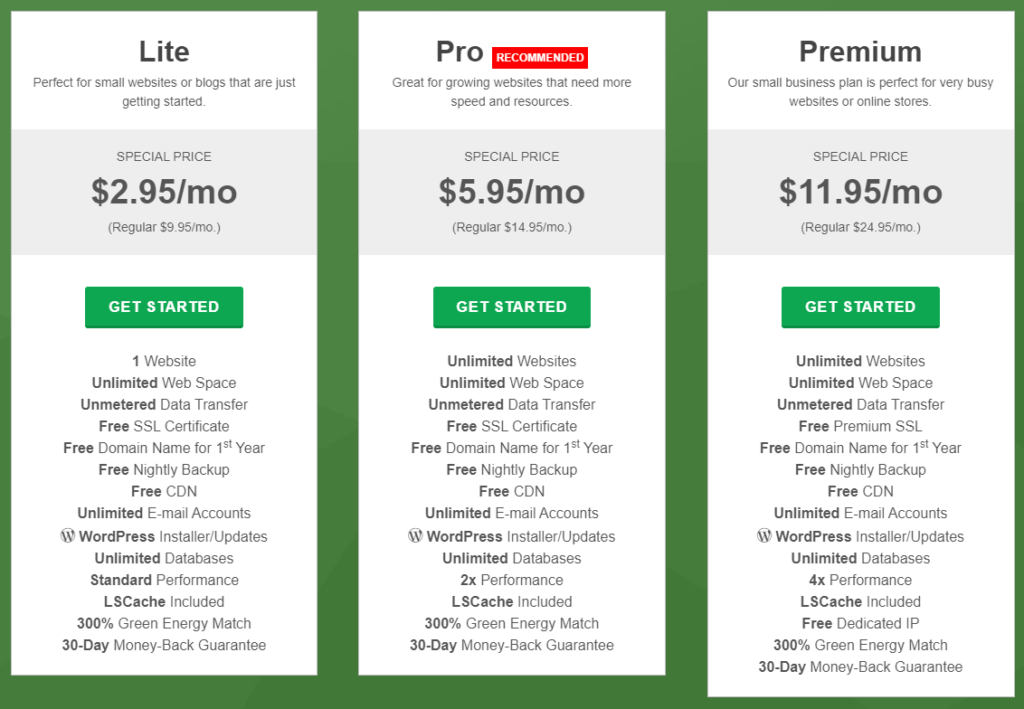 When you aim for increased user engagement and productivity, you need a web hosting that makes your website load faster. SiteGround is the web hosting provider that delivers high-speed for your website with rock-solid security. They use Google Cloud to maintain swift and stable connections, and their SSD persistent data storage ensures low latency.
SiteGround has three different hosting plans starting at a price of $4.99 per month.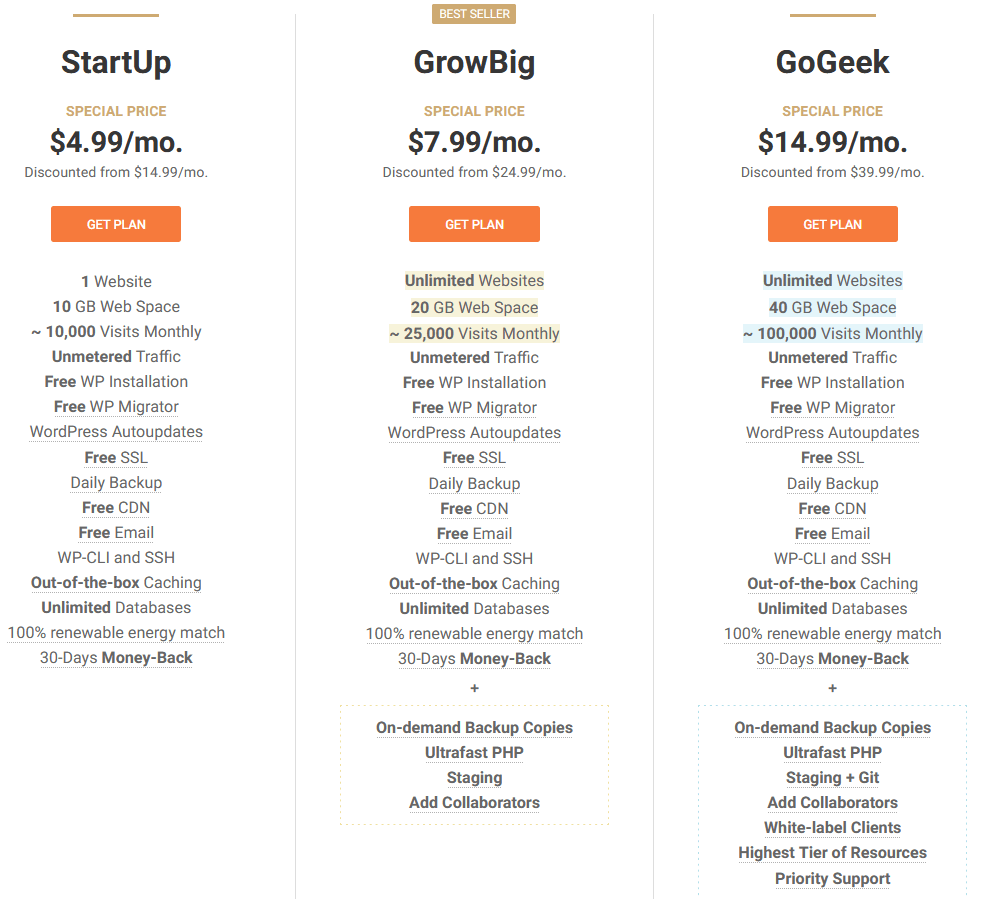 WP Engine is the original managed WordPress hosting provider and also one of the leading ones. If you have complex hosting needs then WPEngine provides the best hosting solution. It is more suitable when you have an online store, multiple websites etc. With their web hosting services, you can get a high-performing website without having to worry about its maintenance.
Their managed web hosting plans start at a price of $25 per month, if you sign up for one year. If you want to choose a monthly plan then this will be at a price of $30 per month.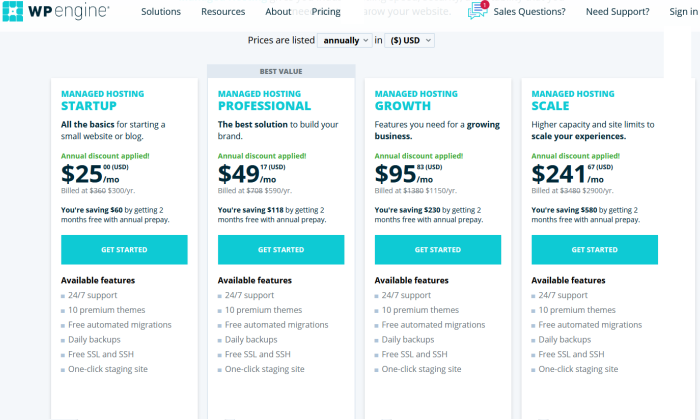 Do you want to build a high-speed website at an affordable price? A2 Hosting offers great hosting solutions at low prices. They are also offering different hosting tiers including shared, VPS and dedicated. 
With their Turbo Boost and Turbo Max plans, you will get access to their Turbo Servers. They claim to be 20 times faster than their other servers.  These Turbo servers also include:
40% faster AMD EPYC CPU performance

2 times faster to first byte

Manage 9 times more traffic

3 times faster read/write speeds with NVMe drives
If you have limited requirements, you can also choose their startup plan that starts at a price of $2.99 per month.
Are you looking for a reliable web hosting service for your website that does not burn a hole in your pocket? InMotion Hosting offers great hosting solutions with a wide assortment of pricing plans. The higher your  plan is, the faster your server will be. Entry-level plans start as low as $5 per month.
They also have some of the best VPS hosting options. There are two types of VPS hosting so you can get the exact amount of support or flexibility that you want.
Nexcess is a web hosting solution from Liquid Web. They offer ecommerce hosting for different platforms including:
Magento

Woocommerce

WordPress

Drupal

BigCommerce

Sylius

ExpressionEngine

Craft CMS

Orocrm
Their pricing plans vary depending on the CMS platform you want to use. WordPress plans start at a price of $15.84 per month.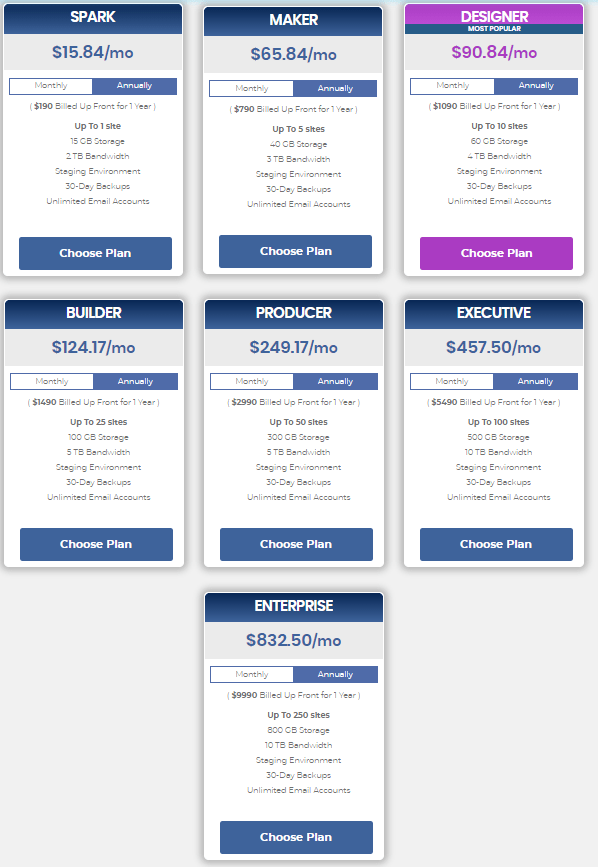 If you are building an online store then Nexcess offers the most suitable web hosting solutions. They also have a dedicated support team available 24×7. Whenever you face any issues, you can call them and get some help.
Wrapping Up!
Hopefully, this article has helped you to understand what web hosting is and how to choose a good one. We have also compiled a list of 10 best WordPress hosting providers.
Still have some doubts about this? To get some expert advice you can call us on 1-866-332-O276. Our team of WordPress experts will assist you with all your queries.
FAQs:
QA. Name two types of hosting.
Ans. Two types of hosting are shared and managed.
QA. Which hosting is better, shared or managed?
Ans. Shared hosting is way more affordable than managed hosting and managed hosting gives you more control over your website. So each one is good in its own way.
QA. Is there any hosting provider that offers free services?
Ans. There are several free website hosting providers but it is recommended that you use paid ones. The reason behind this is, free hosting providers put advertisements on your website. 
QA. How much does it cost to get a hosting solution?
Ans. Every hosting provider has different pricing plans. You can pick a plan that fulfills your website's requirements.
QA. Is it necessary to get a domain name and web hosting from the same provider?
Ans. No, you can purchase your domain name and hosting from different service providers.
QA. Is it possible to change my web hosting provider later?
Ans. Yes, you can change your hosting provider at any time.
QA. What are the benefits of WordPress hosting?
Ans. Some main benefits of WordPress hosting are:
Improved performance

Better Security

Less downtime

Regular backups

Higher search engine rankings
QA. Is WordPress hosting different from other forms of hosting?
Ans. WordPress hosting is completely engineered to provide the optimum hosting environment for WordPress websites.