So you have finally made up your mind to bring your business online and create a digital store! For doing this, the first thing you have to do is, choose the right platform. By now you must have come across a few different names. But only two names must have got all your attention: Shopify and WordPress. When you look for a website building platform you always make sure that it is secured, stable and simple. And also it can help your online business to grow. These two platforms have all these qualities. It makes them perfect to be considered as an option. But when it comes to picking just one of these two, you really have to be careful. You should choose the website builder while keeping all your requirements in mind. For your convenience we have represented the detailed Shopify vs WordPress comparison in the easiest way possible.
---
SHOPIFY VS WORDPRESS (2021): WHICH IS BEST? | FULL PROS AND CONS | COMPARISON REVIEW
---
It is a SaaS platform. This website builder is suitable for people who are relatively new to the concept of website creation. For using this, the person does not have to be tech-savvy. There is no need for in-depth knowledge of coding. As it is a SaaS platform, you do not have to take care of things like hosting, security and maintenance. Shopify does everything on its own. You only have to pay a fixed amount as per the plan selected by you. And you will have complete access to all the amazing features provided by Shopify. Although it is much more convenient and easy to use but also has a drawback. As Shopify handles everything on your behalf so it also leaves you with very limited control over your website.
Pros:
You do not have to be equipped with coding skills in order to create your online store.

This platform is specifically for ecommerce websites.

You get all the sales tools already there. And they are ready to use.

There are no additional payment requirements like hosting or security.
Cons:
You have to use the Shopify's payment gateway to accept payments from your customers in order to save transaction fees.

If you do not use 'Shopify Payments' then you have to have additional transaction fees that ranges from 0.5% to 2%.

You have to reformat the whole content if you want to change the theme of your website.

It does not use a drag and drop approach for moving elements.
---
WordPress is a popular open-source website building platform. Currently, more than 30 percent of all the websites on the internet are running on WordPress. It is a self hosted platform. In order to start you have to install the software on your own web hosting. Then you can use it to power your digital store. WordPress gives you the control over your website and the flexibility that no other website builder can offer. But as every good thing comes with a twist. And this case is no different. With all the control and flexibility, you also get the responsibility of handing the security and maintenance of your website on your own.
Pros:
WordPress offers the flexibility that no other website builder can.

It allows you to customize your website completely so that you can make it a perfect fit for your requirements.

Now the new Gutenberg editor is here in the community. It makes things much easier.

It comes with an extensive knowledge base. And there are detailed documentations available for everything. 
Cons:
In order to make the most out of this website building platform, you have to be equipped with a decent amount of coding skills.

Although there is no cost for the WordPress software itself. But if you have so many requirements for additional things then it can get very expensive.

You have to take care of things like hosting, security, maintenance, etc. on your own.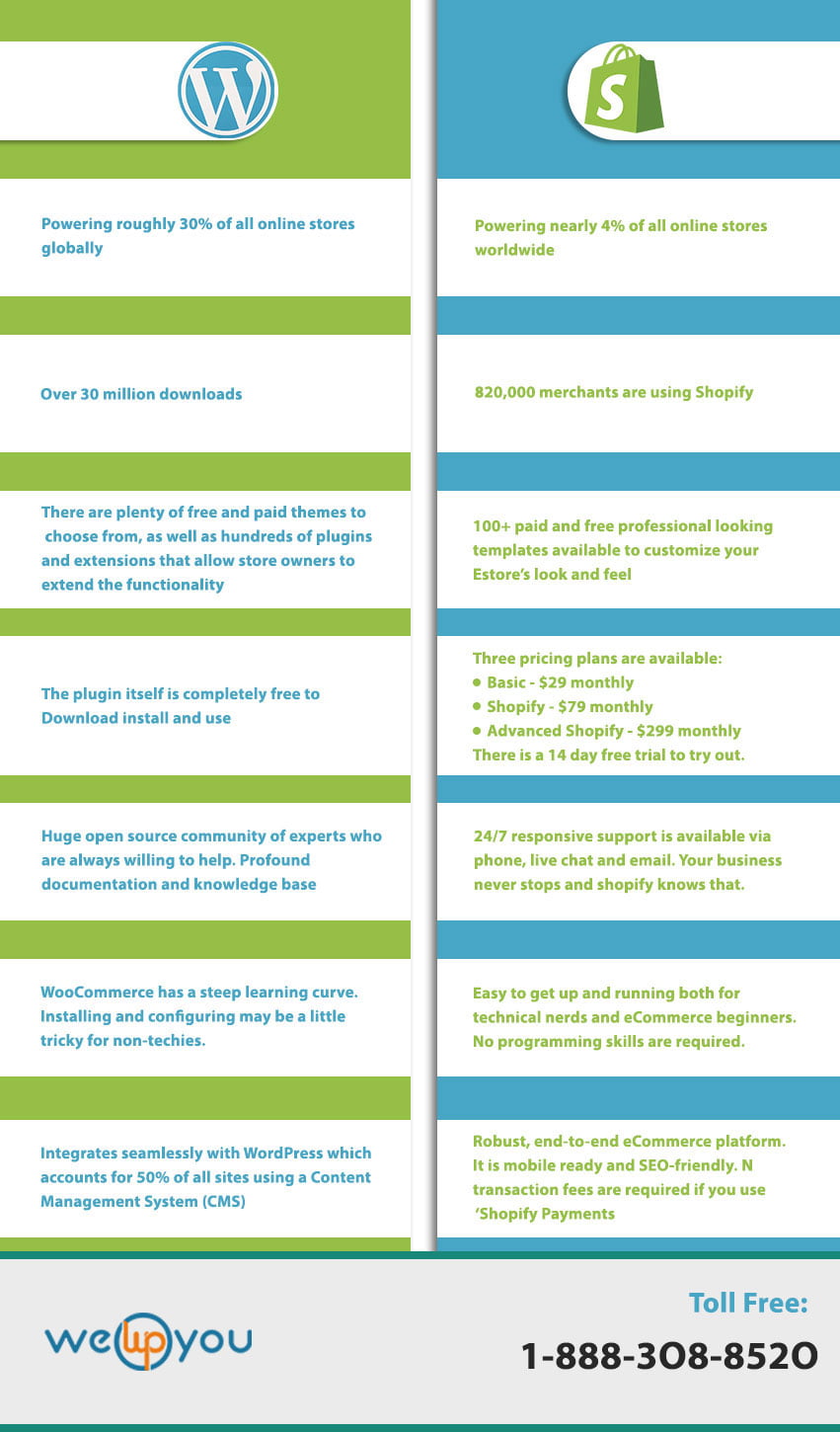 Now that you have a basic idea of both the platforms, we will compare WordPress vs Shopify on the basis of the most important factors.
Pricing:
When you create an Ecommerce website, pricing is one of the most important considerations. At this point, you need to calculate the overall cost. It includes the charges of getting started with the website builder along with the price for required add-on services if any.
In Shopify, there are three different pricing plans available:
Basic:

$29 per month

Shopify:

$79 per month

Advanced Shopify:

$299 per month
You can choose any of these plans on the basis of your feature requirement. 
On the other hand, WordPress is free to download and install. But it comes with other additional things that you have to pay for. You have to get your own hosting. Taking care of security and maintenance is also your responsibility. And if you want to add some extra functionality then you will have to find a suitable plugin for that. If it is a paid plugin then you will have to pay for that also.
Ease of Use:
It is another important factor that users keep in mind while selecting a website building platform. 
Shopify has been designed while keeping both developers and non-technical users in mind. To use this platform, you do not have to be equipped with exceptional coding skills. You can manage everything without having to write a single line of code. It does not have a high learning curve.
On the other hand, WordPress has a little bit of a steeper learning curve. Although you can create a WordPress website without in-depth coding knowledge. But if you want to get experimental then you need to have coding skills. In order to get the most out of this website building platform. You should have a basic coding knowledge. 
Support:
Similar to any other software, it is very usual to get stuck somewhere while using these platforms. The support provided by the website builder also plays an important role in affecting your decision of choosing it or not.
Shopify provides a 24×7 support. They have a large and dedicated team of support professionals. These professionals work around the clock. You can contact them via phone, email or live chat. They will be available for you. 
WordPress is a huge open source community. It has millions of contributors. If you get stuck somewhere then all you have to do is, post your query in the community. You will get plenty of solutions in no time.
---
Wrapping Up!
Picking the right website building platform for your online store in an essential step in the process. It plays a major role in making your digital store successful. Are you also stuck with two popular options that are Shopify and WordPress? If yes, then you do not have to worry. It is not an unusual thing to happen. Both of these platforms have all the important features that you might be looking for. In such a scenario, it is obvious for people to have a confusion while they make the decision. Both the platforms are perfect to serve ecommerce websites of any type or size. You have to keep all the requirements of your business in mind. If you make the right pick then only you will be able to provide a hassle-free experience for your customers.
To help you with this and make things easier for you, we have compared WordPress vs Shopify thoroughly in the above blog. We have included all the important factors that can influence your decision. Shopify and WordPress both have their advantages and disadvantages. You will get plenty of reasons for choosing Shopify over WordPress and WordPress over Shopify. But the thing that matters the most is your specific set of requirements. You have to pick the one that makes a perfect fit for your business.
Still queries are flooding in your mind? No worries, we have got your back. This is the time when you should consider taking help from an expert WordPress professional. We have a large team of experts who can help you with this and with any other query that can come to your mind. You can call us on the toll-free no. 1-866-332-O276. We are available 24×7. You can also get services related to WordPress Security, WordPress Update Service, WordPress Landing pages and all other things.
---
You may also read: