When someone creates a website the ultimate goal behind that is always making the business success which is represented by that website. In this process, the most important thing is to grab customers' attention. At some point in time, you must have wondered how to make your website highly converting. If you have moved in the right direction then by now you must have understood that speed optimization or how to fix WordPress Speed Issues is the key to making your website succeed. Nobody wants to spend their time on a sluggish website. When your website loads at lightning-fast speed then it is sure that you will get a lot of visitors who will explore your website to know more about the products or services you are offering. 
If you are looking for a detailed guide that can explain what steps you should take to fix the speed issues of your website and make it rank high on Google SERPs then you have come to the right place. Here we will take you through the procedure. 
How does speed affect a website's performance | WordPress Speed Issues?
To understand this you have to assume that you are looking for a particular thing over the internet and after so many searches finally you landed on a relevant page. Now if this website takes ages to load then will you spend some more time here? The answer is obvious, No. You would never want to spend your time waiting for a sluggish website to load. You will simply find another option. If you do not want to let the same thing happen with you then you have to make your website as fast as possible without compromising on the quality of the content you are going to provide your visitors with. 
When someone visits your website then you get very little time in which you can show the visitors your content and convince him/her to spend some more time on your website to explore it.
A Detailed Overview of Speed Optimization or WordPress Speed Issues:
Before trying any of the speed optimization techniques you should check the speed of your website. Most of the time people think that if their website does not load slow on their computer then it has a good speed. And this is absolutely wrong. You are able to load your website comparatively faster because your browser might have your website in its cache memory. But when the same website is loaded on other computers then it loads at the actual speed. And the geographical locations also play an important role in deciding a website's speed. So it is always a good idea to check the speed of your website with the help of a good speed checker tool like IsItWP's WordPress speed test. 
Once you have a fair idea where your website stands you will be able to make right decisions in order to make it faster.
Find out the factors that cause your website to slow down:
Finding the root cause of a problem makes it easier to solve it. When you start the speed optimization of your website then the first thing you will do is find out what is causing your website to slow down. This way you will be able to improve your website's performance in the long run. Some of the most common causes of a sluggish website are: 
Issue from the web hosting provider

Poor WordPress Configuration

Pages that are not web optimized

Slow plugins

Use of a lot of external scripts
Once you find out the exact factor that is making your website slow you can take the right step to fix it.
Ways to Make a Website Fast:
There are a few things that you can try to make your website faster than before.
The webpages of your website are dynamic so they are created every time when a visitor comes on it. To serve the visitor with the requested page, an entire process is run on the backend. And the amount of time this process takes to get completed is the load time of your website. If this time is more then it simply means your website is slow.
When you use a caching plugin on your website then you can make it load much faster. In this scenario, the plugin makes a copy of your website when it is loaded on a browser for the first time. When any web page is requested again after the first load then the visitor will be served with the cached version of your website.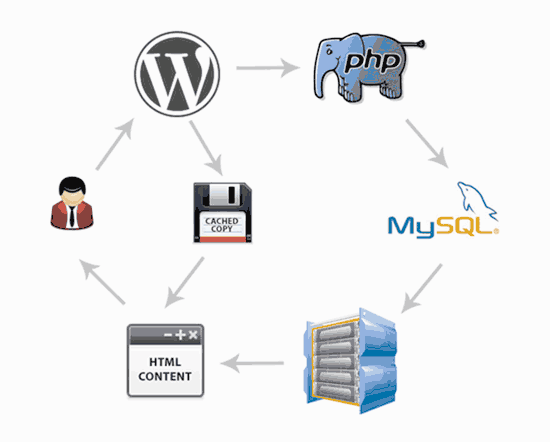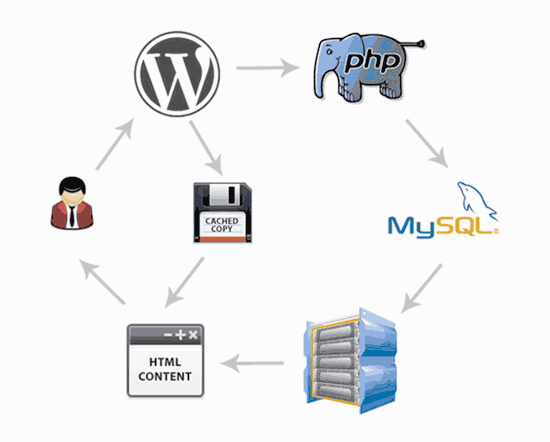 Keep the Website Updated:
WordPress is an open-source platform and it is supported by a large community of developers and designers. This is the reason they keep introducing frequent updates. These updates include performance improvements and bug fixes. There are chances that your website is running slow because of a bug that was present in the WordPress version of your website. When you keep your website updated then you can make sure that it has no bugs and this will eventually result in a faster website. This way you will also not miss out on any amazing features. 


Shift Your Focus on Background Processes:
In every website, there are multiple processes that keep running in the background. These processes are the scheduled tasks of your WordPress website. Some of the background processes that can be there in a WordPress website are mentioned below:
Task-related to the backup plugin of your website

Some cron jobs that are related to publishing already scheduled posts

And cron jobs related to checking updates for your WordPress website

When any crawler or search engine tries to fetch the content
Although some of these processes have almost no impact on your website and some other ones affect your website significantly. Processes that are related to cron jobs for posts and updates are the ones that have almost no impact on the performance of your website. On the other hand, some of the processes can affect your website's performance in a negative way. In order to optimize your website, you have to find out which background processes are causing your website to slow down. And once you find that process out, you can easily take care of that. 
Use Excerpts for Homepage and Archives:
Although in a WordPress website for each of your posts will display the entire content on the homepage and archives by default. And getting the full content displayed for the homepage, categories, tags, and other archive pages is the reason why your website is loading at a relatively lower speed. 
Along with this, when a user comes across a page that is displaying the full content he/she will never visit the actual website. On the search engine page itself, they get everything that your website has then there will be no need for them to visit your website. This can result in reduced page views, and the time spent by the users on your website.
If you do not want this to happen with your website then you will have to take care of the sluggish pages of your website. And you can do so by using excerpts for home page, archives, and other pages. This will definitely result in a website that loads very fast. 
Image Optimization:
Pictures carry life to your content and present your information in a more attention-grabbing way. According to many recent surveys, it has been concluded that using attractive images makes individuals 80% bound to pursue your website and content. In any case, in the event that your pictures aren't upgraded, at that point, they could be harming more than making a difference. Actually, non-enhanced pictures are one of the most widely recognized speed gives that we see on apprentice sites. Before you transfer a photograph legitimately from your telephone or camera, we suggest that you use photograph altering programming to improve your pictures for the web. 
In their unique arrangements, these photographs can have tremendous record sizes. In any case, in light of the picture document group and the pressure you pick in your altering programming. You can diminish your picture size by up to 5x.
Use a CDN:
Do you remember how we referenced over that clients in various geological areas may encounter distinctive stacking times on your site? That is on the grounds that the area of your web facilitating servers can affect your webpage speed. 
For instance, suppose your web facilitating organization has its servers in the United States. A guest who's likewise in the United States will for the most part observe quicker stacking occasions than a guest in India. With the help of a Content Delivery Network (CDN), you can easily reduce loading times for the visitors of your website. A CDN is a system of servers that is functional from everywhere around the world. Every server will store static records. These records play an important role in making up your site. 
These static documents incorporate perpetual records.  For example, pictures, CSS, and JavaScript, dissimilar to your WordPress pages which are "dynamic" as clarified previously. At the point when a CDN is being used, whenever an individual visits your website, he/she will be shown those static documents. And the server which is nearest to the user fetches the files that are required. Your web server will work at a much higher speed as the CDN is taking care of a great amount of the work.
---
Wrapping Up!
By now you must have understood how important speed optimization is for a website if you want it to succeed. Here we have compiled a list of all the possible ways of making your website faster than before. This way you can also make it rank high on different search engines. 
If there are any questions in your mind about how the speed optimization of a website can work or related to any solution in the above list then this is the case when the need of some expert help arises. Now there is no need to stress yourself by wondering from where you can get that help. We have a large team of skilled WordPress experts who are just one phone call away. For your issues related to WordPress, you can call us on 1-866-332-O276. We are available 24×7. 
---
FAQs:
What is the most critical factor of a website as per the SEO?
Speed is the most critical factor.
Does Hosting provider play any role in deciding the speed of a website?
Yes, it is an important factor.
What is a good page load time?
A good web page should load in 2 seconds.
What are some good caching plugins?
Some good caching plugins are W3 Total Cache, WP Super Cache etc.
Is there any way to optimize images online?
Yes, there are various options to optimize images online.
---
Other Blog you might wish to read: