So, let us get to the point! We are going to talk about artificial intelligence websites.
Which means that every sci-fi movie you ever saw is finally true! You no more have to worry about doing your tasks, because technology is now capable to do everything that required human intervention before! So, the last time you saw a robot doing household chores in a film, to Elon Musk being against killer robots, it is all true and happening!
The thing is, why are we talking about it here? Simply because there are artificial intelligence websites and WordPress is ahead in that too!
You too can support this futuristic technology as it is estimated to grow to $7.3 Billion!
Artificial Intelligence Websites: What is in it for you!
It is said in research by Deloitte that over 83% early adopters of AI have benefitted from it!
So, if you adopt Artificial intelligence in your WordPress website, chances are that you are going to revamp it totally.
As a website owner, you are juggling balls between creating content, improving optimization, enhancing user experience and making sure that your website is up-to-date when it comes to the UI/UX trends. All this is doable better and in a more streamlined manner with the help of Artificial Intelligence.
---
These are some of the ways in which AI can help improve your website
To help you get a better command over your language: If you are always worried about using the right grammar and word choice, then an AI can be of great help.
It can see your content from a new visitors' perception and add a proofreading feature, as well as add a spelling and grammar check.
 Enhance your website's SEO: There are a few ways to speed up the process with the help of AI.
So, if you are taking the prerogative of creating content. The AI can help optimize it.
 Automatic Customer Service for your e-commerce site: this is the major and most concentrate use of customer service for your website. If you would consider, a commercial website has so many things going on.
 The major and most tedious part of this is customer service by making it automatic in chatbots.
 If you come to think of it the AI, can answer all the basic questions and make the communication more streamlined.
 Show users related content: If your users are frequent visitors to the site, and you want them to feel at home, then the first thing that you need is an AI to assess your content to always show the most recent and relevant.
 Seamless Voice Search: If your website visitors can receive a bonus in the form of 'voice search', then it can take into consideration an added surprise.
 With the help of this AI-Power, you will get more out of your machine, so why is there a need to type anymore.
 Magical UX Experiences: You can achieve a great number of awe-striking features with AI.
Let us see all the ways in which you can do that:
---
Artificial Intelligence Websites: Plugins that use AI
1) WP A.I Assistant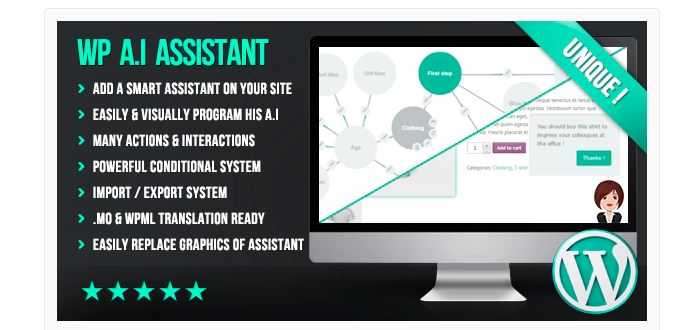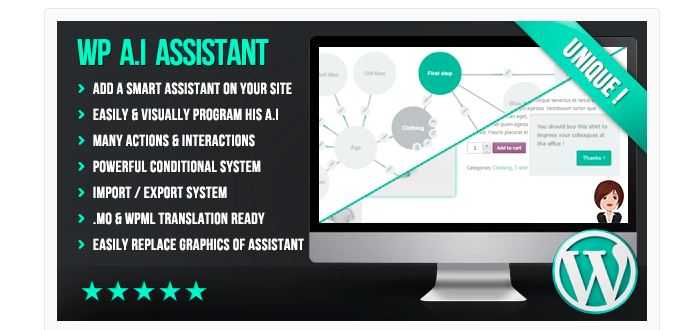 Who helps a store owner? An assistant! What if there was the same assistant that helped guide your customers and sell products.
 If you talk in the language of AI, it is like mind-mapping. So, you can configure your AI to pre-program actions and interactions.
 So, in this way, you will always have a guide on your site.
2) WordLift


If you head to their website, you will see various testimonials that a number of their clients have seen a 60% increase in the search traffic. Let us see why!
 This leverages your website in a way that an SEO expert would. After analyzing the content on your website, the AI plugin would transform it into a machine-friendly website to increase traffic.
 What it does is to help you build an internal vocabulary that can act as a search magnet for your potential visitors.
 Also, if you are creating content, then this is a one-stop-center for optimizing anything as, there are contextual facts, links, and media for creating richer text and simultaneously optimizing it for everything.
 So you not only get content organization but optimization as well.
3) MyCurator


 If you have a niche, then this WordPress plugin is great for you.
 It helps you discover interesting content and customize it to suit your niche prior to your publishing it on your site.
 The AI version of your site scans the RSS and Google search sources to be able to give you the most relevant content.
 So everything irrelevant to your niche is automatically weeded out to suit your niche.
 An added feature of the plugin is to upvote and downvote the posts it finds online.
4) Primal

 If you want to display relevant content to your visitors, then this is the plugin for you.
 This AI-based plugin helps to collect information about your content and then pulls pages across the internet that are tailored according to the pages that you are creating.
 The machine learning will help the plugin understand the interests of your visitor so that it can deliver the content that entices them.
5) Breinify

With the help of this plugin, you will be able to seek information on the websites your visitors visit.
This category of interests will help you get a better idea of your visitors.
The plugin also illustrates the real-time activities on your website.
Although, we would like to caution you that this has not had any recent plugins and is thus vulnerable to attacks, but the services are still available.
6) After the Deadline
Jetpack has a lot of amazing features and this plugin is one of those!
 This AI-powered conceptual spell-check not just corrects the errors but also gives appropriate suggestions on how they can be improved.
 No matter what it encounters, be it misused words, structure errors, etc. It not only detects it but also finds a way to offer suggestions to improve your language!
 The way you need to work with this is to simply turn it on while working in your WordPress editor. With different colored underlining, you will be able to understand whether it is a spelling error, grammatical mistake or a suggestion.
7) Quttera Web Malware Scanner

 You will no more have to worry about trojans, backdoors, worms, viruses, and other digital pests, with this plugin.
 This AI-powered plugin uses special cloud technology to do so!
 With the help of machine learning, it gets to know all the threats over time. So it can recognize the known ones and adapt to the unknown ones.
 In addition, if due to unfortunate reasons, your website gets blacklisted by Google, it can find the reasons and also take the remedial steps to undo them.
8) Free Live Chat + 24/7 Automated Bot
If you are aspiring to have a 24×7 support on your website, without having to spend on it, then this plugin is the best for you.
 The machine learning chatbot will be working in and as a customer support agent.
 It will automatically build a knowledge base and seek answers to questions.
 The added advantage is that the bot uses from your communication skills to improve its work.
 It can answer their most pressing questions, to begin with, and you can take over from wherever you deem appropriate.
9) The Client Relations Factory

 This plugin allows WordPress to connect to a virtual robot platform and is thus a customizable virtual customer service robot.
 This is in the form of an animated character and can interact with your existing and potential customers on its own.
 Add to that, you can manually update the knowledge and information it garners during conversations to make it available for the future for the plugin.
10) Did You Mean
 Again, this plugin has not been updated for the longest time but can help you out of those sticky and messy 404 scenarios.
 There is a conditional sidebar that shows up when someone is going through a 404 Error.
 In case you are wondering what it does, then it helps the user by letting them know all the probable typing errors that could have occurred in the URL.
 Next comes the different features similar to Google autocomplete to the WordPress search bar.
---
Artificial Intelligence Websites: Conclusion
Ai is progressively turning towards becoming the next big thing. Add the comfort, convenience, and ease of it to your website.
There are various plugins that can help you achieve for your site.
Hope you and your website soon can join the AI bandwagon!
Get on board and start the AI magic!