What is the primary motive of a business? Success and Revenue! Isn't that what you want from your website as well? Something that helps you gain a stable income at all times. There is a way to determine that and for that you need ads. When your website hosts ads there is a revenue generation on a constant scale. And when it comes to all the advertisement platforms that are there, it is Google AdSense that is considered the most popular. Here are some of the best AdSense plugins for WordPress to help you scale your online business!
What does AdSense do for you, you might be wondering!
AdSense lets you host ads that are relevant to your website and you are able to earn revenue every time a visitor clicks on the ads. It is not that simple though, there is a need to be able to follow the strict guidelines of Google so that you can avail the tool.
It is only when you comply with them, that you get an AdSense account and it is from here that your journey begins to add the account and position the ads according to where you want them!
Across the world there are more than 3,633,830 websites that are using the tool. Out of these 1,756,380 are unique domains. It is an immensely popular tool for being free. This is where Google's credibility and applicability comes into the picture.
We have compiled a list of the most popular AdSense WordPress plugins so that you can start churning money from your site as well.
Read On!
---
1. Ad Inserter
Ad Inserter defines itself as an ad management plugin with a number of advanced advertising features to insert them in the position the user wants.
The good part is that this AdSense plugin for WordPress is not only applicable to AdSense but also Google Ad Manager, Amazon Native Shopping Ads, and Media.net among others.
If you go on their official WordPress page, they claim to add ads in places and position them in places where the others have failed.
They have been rated highly and have been touted to be "the best WordPress Ad Management Plugin" by some.
The basic version of the AdSense plugin for WordPress is free, although they have a pro version for added functionality as well.
They also have a feature, where blog owners can review them and become affiliates.
Another added feature is that although you have the freedom to add advertisements, you can also add other types of content with the help of the right coding.
Get It For: Free Basic Plugin / Pro Version Starts At $20-$100
---
2. AdRotate Banner Manager


With the course of the article, you will get to know how important it is to position your ad correctly.
It is this AdSense plugin for WordPress that also claims to be able to put attractive advertisement banners anywhere you want on the page.
If all you want is a smart utilization of AdSense then you can go in for AdRotate too, but Banner Manager works for adaptive and easy to use banners.
With the right knowledge of HTML and coding, you can create attractive banners for yourself.
All this and much more can be done right by using your dashboard.
The AdSense plugin for WordPress also allows the user to check the impressions on their ad after posting.
Add to that the option where this AdSense plugin for WordPress is available for free and there is another pro version that is enabled with added features.
The pro version has multiple features that allow your advertisers to add/edit and manage their own advertisements.
Get It For: Free Basic Plugin / Pro Version Starts $29 – $199
---
3.  Quick AdSense


If you are a beginner and want to avail all the features of an advanced AdSense WordPress plugin, then this is the one for you.
The interface of this plugin is neat, direct and not complicated.
The configuration of ads to is simplistic, all you need to do is paste the code, tick the options and the plugin will take care of the rest.
The plugin can support up to 10 ads on the side widgets.
Get It For: Free
---
4. WordPress Ad Widget


If you want to place ads on your site, but do not want to spend too much time doing it, then this AdSense plugin for WordPress is for you.
All you need to do is drag a widget to the sidebar, upload an ad and save your changes.
The plugin requires no knowledge of coding and is intuitive for beginners.
This user-friendly plugin is having a very straightforward interface.
It is easy to place banner ads.
You can place various Google ad tags and other code easily.
Get It For: Free
---
5. DoubleClick by Google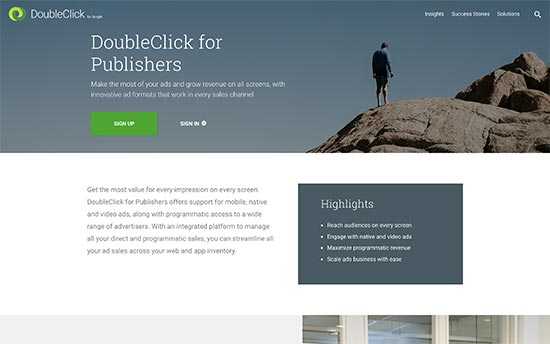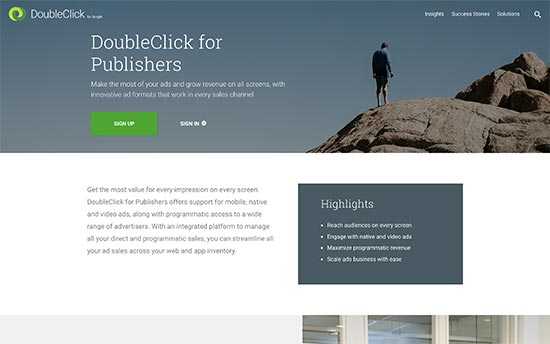 This subsidiary product from Google comes with the tech giant's dependability and credibility.
The aim is to make every ad count and to make more dynamic and engaging ads.
This tool also supports video-format content in your ads.
Once you using the tool, you can take care of all the ad sources in a single place.
There are analytics tools that can help you gain better insights into the ads that you are posting.
You can also earn a handsome revenue by selling your ads and compete for different ad spaces on AdSense too.
This tool is a little complicated to get started with.
Get It For: Free
---
6. OIO Publisher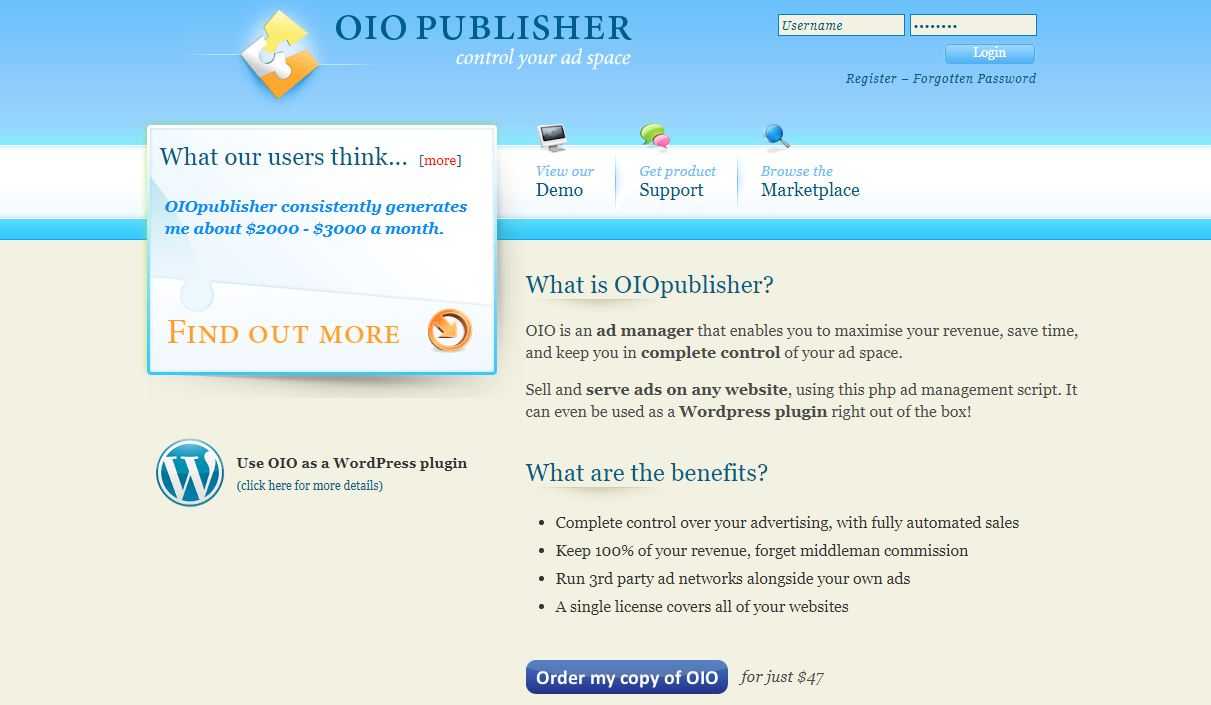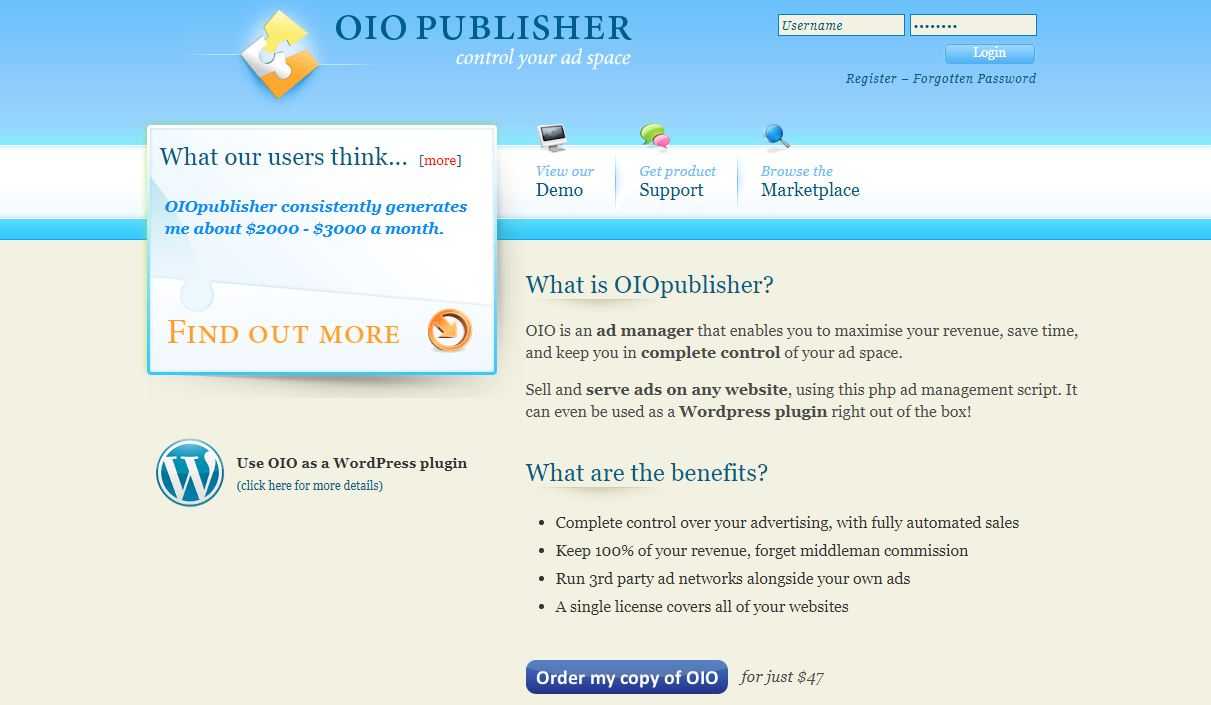 How this third-party plugin defines itself is as an ad manager that is there to maximize your revenue, save time and take control of your ads.
On this plugin, so you can sell your ads on multiple websites.
This can be used as a WordPress plugin by simply pasting the script on your WordPress.
All that you need to be sure of is that the theme supports WordPress "header" and "footer" hooks.
Get It For: $47
---
7. AdSanity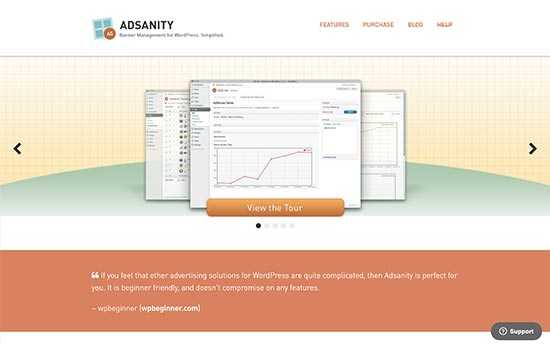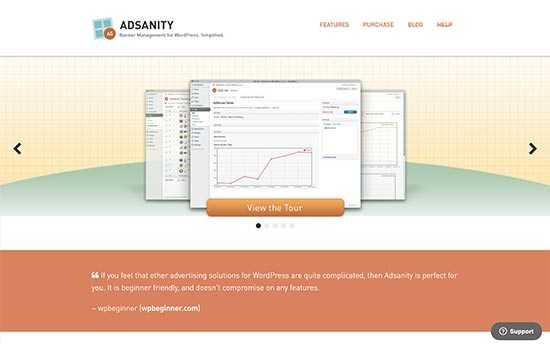 If you are a beginner venturing into AdSense, then this is the plugin for you.
With the help of this AdSense plugin for WordPress, you can insert ads on your website with the help of the ad inserter button and the visual editor.
You can support both kinds of supported ads – the ones that are managed banner ads and the ones that are sold directly by you.
There is no limit on the number of ads that you can create with the plugin. All that you need is to add them with the custom widgets, shortcodes or by making use of the button on the editor.
Get It For: $30 – $489
---
8. Easy Plugin For AdSense


You can follow simple steps to add this AdSense plugin on your site.
Apart from that, you can post ads not only on the blog pages but also on the first page of your website.
The plugin by default enforces the Google AdSense Policy on your ads so that none of your ads get banned by the search engine.
There is a measure to decorate and make your ads more attractive, as and when your needs arise.
Get It For: Free
---
9. AdSense for AMP


This plugin is to aid you in adding AdSense to your AMP pages and also comes with a dedicated WordPress plugin.
This is a very important AdSense Plugin for WordPress as mobiles are becoming the only major device that the users are browsing their websites on.
Having a website that is mobile-friendly can really be of immense help.
It helps in the upward crawling of your website on the search engine rankings and leads to enhanced user experience.
With the help of this plugin, you can use AdSense on your AMP and monetize your mobile pages.
Get It For: Free
---
10. WP QUADS – Quick AdSense Reloaded


There was a time this was considered the most popular AdSense plugin for WordPress.
With time, the support was withdrawn and the creator took it on himself to maintain it.
There have been a lesser amount of updates on the plugin since.
Keeping that in mind, the classic version of the plugin is still fully functional.
The loyal developers have optimized the code and improved the performance of the plugin.
Get It For: Free
---
AdSense Plugin For WordPress | Wrapping Up
AdSense has a wide variety of benefits that you can avail by using it on your site. Your site does not need to have a product to sell to be able to host ads. It is a little effort inducing to begin with. Once you are done with that, there is nothing that can stop your revenues from pouring in.
Let us know whether these AdSense Plugin For WordPress are helpful for you to understand the whole process and get your advertisement game begun!