If you have a website then at some point you must have come across a situation when you get a message saying your connection is not private error has occurred when you try to access it. When this happens with your website, it is very obvious to get worried. You would never want your users to have a feeling that they are accessing an unsecured website. However, there is no need to panic. Here we are going to explain what connection is not private error means, what are its causes, and how you can fix it. 
When you see the privacy error your connection is not private, it simply means that it is a message from your browser. It says that you are using a connection that is not secure. And if you are not using any kind of security software or antivirus then you can easily get attacked by some viruses. In this situation, you can easily fall prey to hacking attacks. 
Whenever you try to access a website, your browser makes sure that the website follows all the standard security protocols and is safe to use. The browser does so by running a check on the digital certificates that are installed on the server.  If everything is fine then the browser will lead you to the desired web page. But if it finds something wrong then you will not be able to access the website. In such a case, you see the error your connection is not private on your screen. 
These digital certificates are also called public key infrastructure or identity certificates. With these, the browser verifies the identity of the website. And this way it can also be ensured that users' information is secured with that particular website. But when there is an error in the SSL certificate, you will face an issue like this. There are a few reasons that can cause an SSL connection error to take place:
Missing or an expired certificate 

Outdated version of the browser

Turned off antivirus settings or date and time settings 

Some issue on the server-side
If the cause of the problem is one of the first three then you can take corrective measures but if it is an issue related to the server then you should wait for some time. This error will get fixed on its own.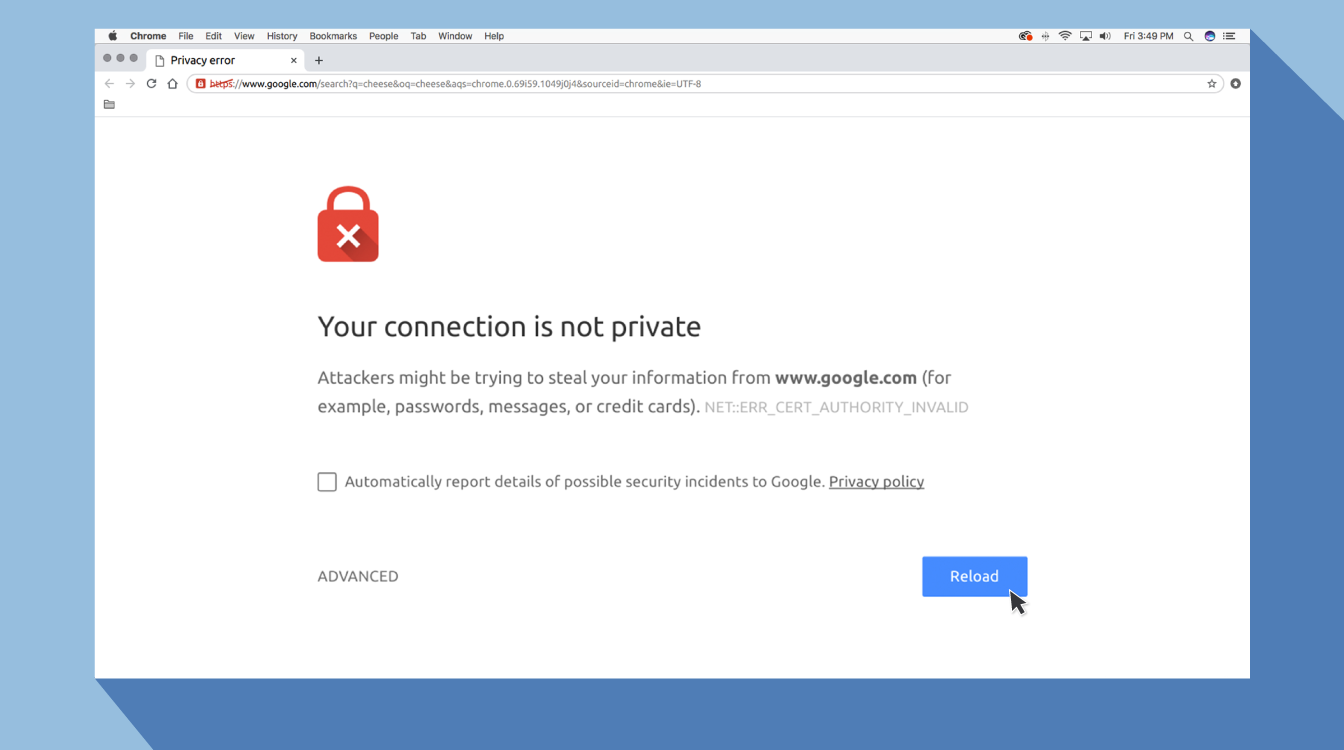 How to Fix It?
There are a few different solutions that you can use to get rid of this error. 
Refresh the Page:
This is one of the most common solutions we try to fix any problem. And in the majority of cases, the problem also gets fixed by doing so. Actually, when you refresh the page, it fixes all the common glitches like browser timeout, internet connection issue etc.
And if any of these is causing the error then reloading will fix it. 
Use Incognito Mode:
The next common solution to most of the issues is opening that page in incognito mode. If there is some security-related issue with your website then you will not be able to see it in incognito mode. The reason for this is, in a private window you can browse a website afresh. This will not pick the version saved in the history or cache memory. If the problem still persists then you can also try clearing the cache of your website.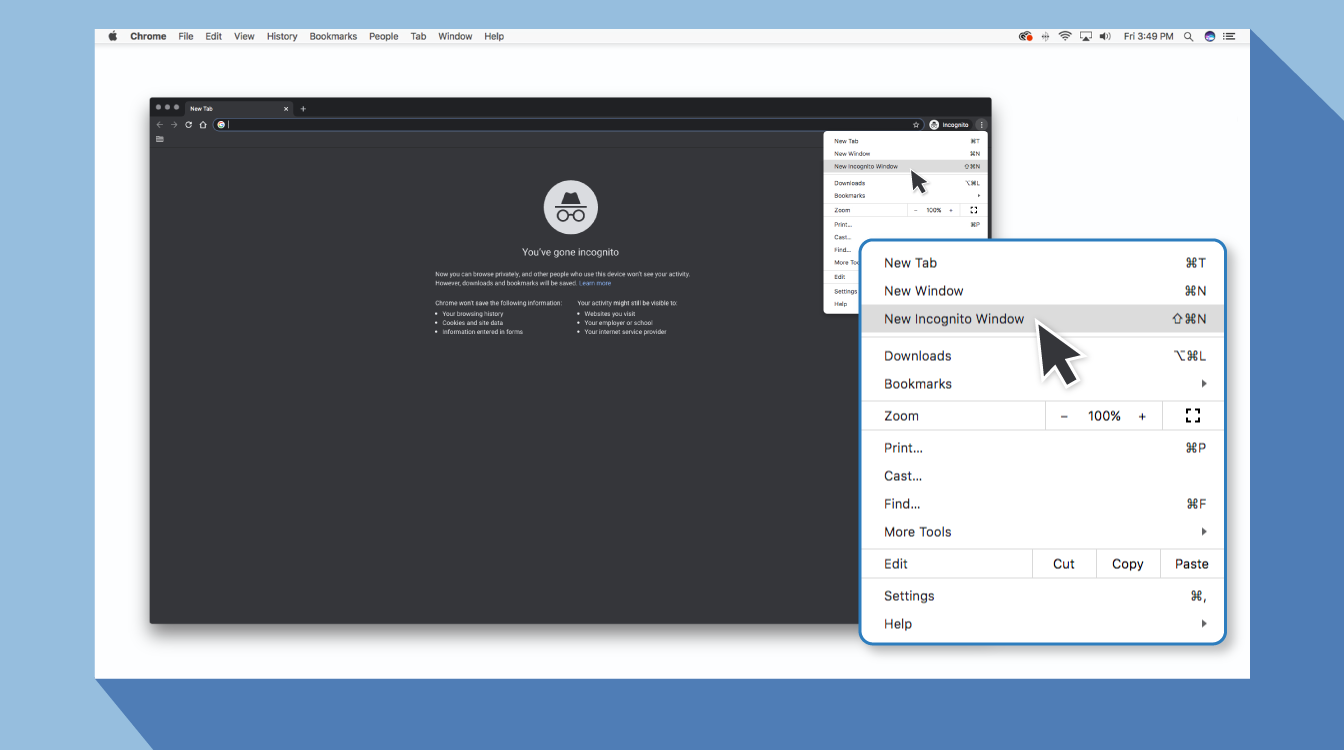 Check the Date and Time:
Always make sure that the date and time are correct on the computer that you are using to access that website. If the date and time of your system do not match with the ones of your browser then an SSL connection error may take place. 
Clear the Browser Cache and Cookies:
While you browse different websites on your computer, it will keep storing cookies. And these cookies gather a lot of data. This data can take up a huge amount of space. And this can cause your system to slow down when it tries to process all of that data. To avoid this problem, you will have to clear the browser cache and cookies. Doing so will definitely speed up your connections.
Always Use a Secure Network:
When you use public wifi always keep in mind that it is not secured. The reason for this is, such networks have poor configuration and do not run HTTPS. In such cases, you should not access your website. Doing so will make your website more vulnerable to hacking attacks. So it is not recommended to access your website on a network that you are uncertain about. 
And if you have to access it using public wifi then always use a Virtual Private Network. Using a VPN makes sure that your data is protected. This will hide your traffic and protect your identity. 
Always Make Sure that Your Antivirus or Firewall is Working:
There can be instances when you have an antivirus system but still you are facing an issue. This can happen when the antivirus or firewall you are using overrides your network. You have to disable the SSL scan feature for a temporary period in order to find if this is the reason for the error.
---
Wrapping Up!
Are you getting a message saying your connection is not private error whenever you try to access your website? If yes then this situation can get very annoying. If you do not fix the error, it can have a hugely negative impact on the user base and traffic of your website. Do not worry, here we have explained the causes and all the possible solutions for this error.
By now you must have understood a lot of things but it is also obvious to have a lot of questions in mind. Want to get the answers to all of your queries? If yes then you need only some professional assistance. And if you have no idea where to go for this assistance then we got your back here. You can contact us 24×7 on 1-866.332.O276.
---
FAQs:
QA: How do you keep your website secured while accessing it on a public network?
Ans: Always use a VPN.
QA: Does refreshing the page fix this issue?
Ans: Yes, sometimes.
QA: Can clearing the browser cache and cookies get rid of the problem?
Ans: Yes.
QA: Can entering the incognito mode fix the problem?
Ans: Yes, sometimes it can fix the problem. 
---
Other Blog you might wish to read: