When you create a WordPress website, you get a lot of amazing features by default. But still there can be instances when you will feel the need for some extra functionality. And you have the option of adding plugins for that. There are hundreds of thousands of different plugins that you can install on your website. But there are two plugins that come pre-installed with every WordPress website and Akismet is one of those plugins. Now you must have started having questions like what is Akismet or how does Akismet works. There is no need to worry as here we are going to discuss the Akismet Anti-spam plugin in great detail.
What is Akismet?
Akismet is an anti-spam plugin that you can use to keep your comment section spam-free. It filters out the comments on your blog and pingbacks the spam. The comment section of your blog can prove to be very useful as it gives you the opportunity to get engaged with your users. It also gives a platform to the users where they can talk with each other and you will get to know their genuine feedback. But there can be times when the comment section starts to get filled with spam comments. If you do not fix this then this can have a hugely negative impact on your website's performance and productivity. 
If your website is a popular one then the comment section of your blog can have the spam comments around 85 percent. This is the case when you understand how important comment moderation is. Undoubtedly, it is a time-consuming task, and doing it manually is not a good idea at all. This is when Akismet comes to the scene. With the help of this plugin, the process of spam filtering has become very easy.
Key Features:
This plugin checks for spam comments automatically.

Moderators can easily check the number of approved comments.
How to Set Up Akismet?
Although Akismet comes with every WordPress website by default but it is not activated at that point. You will have to set this plugin up so that it can work properly. In order to start with the setup process, navigate to Plugins and activate Akismet. 
Once activated, you will start seeing an additional item on the menu 'Akismet Configuration'. 

To configure Akismet, click on this.

Then on the next screen, you will have to enter the Akismet API Key.

Leave it open and open a new browser window so that you can create an API Key.

Create the API Key:
For this, you will have to go to the official Akismet website.

Here, you will find a button 'Get a WordPress Key'. Click on that.

And then you will see a screen with all the different pricing plans. 
Here comes the big question! Is Akismet free or what is the Akismet pricing? And the answer to this is, it depends. If you are running a personal or non-business website then it is free. But if you have a business website then you will have to choose one from the available pricing plans.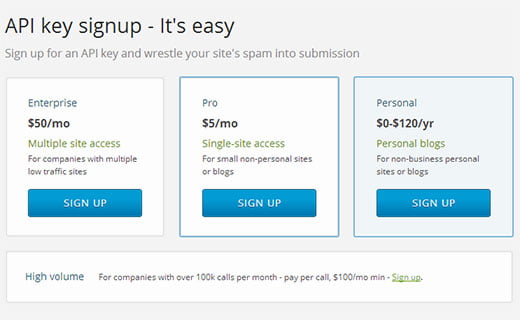 Once you make the decision which plan you want to go for, click on Sign Up. 

You have to choose the option 'Sign Up with WordPress.com'. 

If you already have a WordPress.com account then you can use that. For this, you will have to click on this link saying 'I already have a WordPress.com account'. 

But if you do not then you will have to create one.

When you sign up to create an account, you will see a screen with a sign up form.

Just fill out the details and click on 'Create Account'.

Once the verification process is completed, you will be led back to the website.

Here, you have to enter a few details and click on 'continue'. 

Then you will get the Akismet API Key. You will also receive an email containing that key.

The API is similar to a password. Sharing this with anyone is not recommended.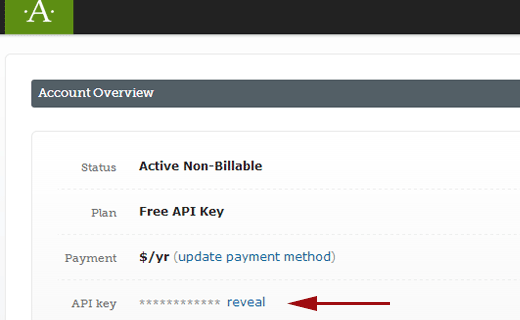 Use the API Key:
Copy your API key and paste it in the Admin section where we left.

After clicking on 'Update Options', you will see that it is done.
Other Ways to Prevent Spam:
Although Akismet does a really great job of spam filtering, there are other ways also that you can use for spam prevention.
Use Captcha and reCaptcha: To make your website spam-free you can use Captcha whenever someone enters a comment on your website. Captcha is an anti-spam method to stop the spam comments as most of the spammers use automatic spambots to input the comments. A Captcha mechanism eliminates the use of spambots by making sure the presence of a human. The free service Google's free reCaptcha also works like captcha by displaying the characters to enter a comment.
Use a Hidden Checkbox:

While using Captcha service can stop more than 80% of spam comments, to prevent the remaining comments, you can use a hidden checkbox. A hidden checkbox when checked doesn't allow a form to submit. Users would not be able to see this checkbox but a spambot is programmed to click on all the necessary checkboxes and when clicked, it will prevent a form from being submitted.
---
Wrapping Up!
When you run a blog then you can come across some situations when the comment section will get filled with spams. And it can have a negative impact on your website. This is why spam filtering is very important. Akismet does this very efficiently. If you are wondering what is Akismet then this blog is for you. Here we have explained everything about this plugin in detail.
If there is any doubt in your mind related to Akismet or the process of setting it up then at this point, you should consider taking some help from WordPress speed experts. If you are thinking that from where you can get the help you need then there is no need to worry. You can call us on 1-866-332-O276. We work 24×7. Our team will assist you with every possible query you have. 
---
FAQs:
QA: Does Akismet come with WordPress websites by default?
Ans: Yes, it comes pre-installed.
QA: Do we have to activate it?
Ans: Yes.
QA: From where we can get the Akismet API Key?
Ans:  You can get the API Key from the official Akismet website.
QA: Is Akismet free?
Ans:  It is free for personal and non-business websites only.
---
Other Blog you might wish to read:
How To Fix WordPress White Screen Of Death?