WordPress has a large user base as more than 30 percent of all the websites present on the internet are using this platform. The simple reason behind this is, it is an ever growing community supported by thousands of dedicated developers. They work constantly to bring better features for the users. If you are also in the process of introducing your business in the digital space then you might be thinking How to create a WordPress website. 
Those days are long gone when creating a website used to be a complicated and expensive task. Starting a website is not a terrifying thought anymore even if you are not tech-savvy. In this blog, we are going to discuss all the steps that you will use to create a WordPress website.
Reasons to Use WordPress:
There are a lot of options for website builders available but there are a few reasons why WordPress is one of the most popular ones. This platform is free, open-source and supported by a large community of developers and designers. It comes with thousands of pre-built website designs and add-ons.
WordPress is a versatile platform that means it can run any type of website. This one thing makes it the ultimate DIY solution to create a website. 
Steps How to create a WordPress website:
This is a detailed guide that will walk you through all the steps of creating a WordPress website.
Setup:
Before you dip your hands in the process of creating a website, pick a suitable domain name. Basically, this is your website's address on the internet. Whenever a user will access your website, he/she will have to type this domain name in the address bar. You can choose any name that gives a clear idea what your website is all about. It should be unique but easy to remember. After deciding, you can check its availability. 
Once you settle for a good brandable name, you will have to choose a good hosting service provider. WordPress is free as anyone can download and use it to build any kind of website. You will have to pay for the domain name and hosting service you have selected. Although, there are a few hosting providers like Bluehost etc. who are offering a free domain name with web hosting. 
First of all, you will have to go to the official website of Bluehost. There you will see a green button saying 'Get started Now'.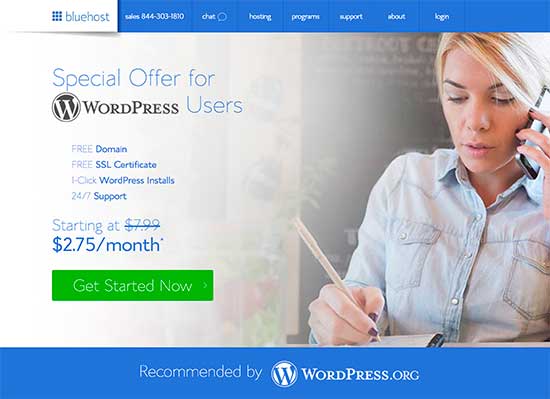 This will take you to a new page where all the pricing plans are mentioned. You can choose any plan according to your requirements.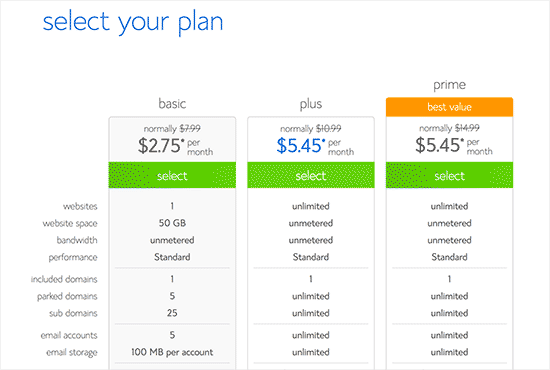 After clicking on select, you will have to select a new domain name. Once you have selected a domain name, click on the next button to continue.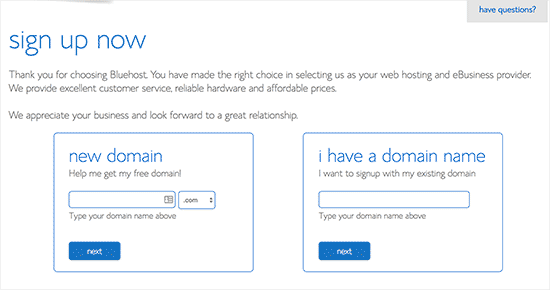 In the next step, you will have to provide a few details including name, address, email, etc. There is also an option to purchase a few extras. You can skip them for now as you can always add them later on. Now, add your payment information and complete the purchase. 
Also Read: All About WordPress 5.8 Beta 1 Released
Once done, you will receive an email containing the login details of your web hosting control panel. From your web hosting dashboard you can do a lot of things like getting support, setting up emails, and installing WordPress etc.
Installing WordPress:
Bluehost automatically installs WordPress on your domain name when you sign up. Once you login to your Bluehost account, you will find your website under the 'My Sites' tab. You can go to this tab and click on the 'Log into WordPress' button, and it will lead you to the WordPress admin area.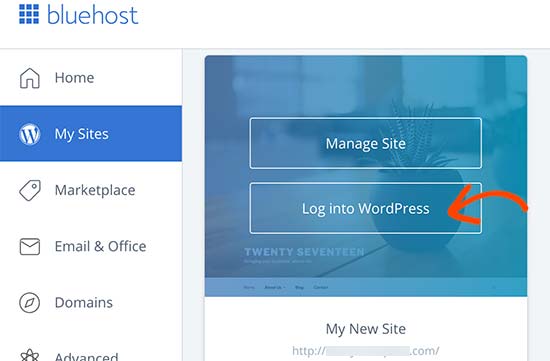 If you are using the Plus or Prime plan then you can install WordPress on unlimited sites. To get started, go to the 'My Sites' tab and click on the 'Create Site' button.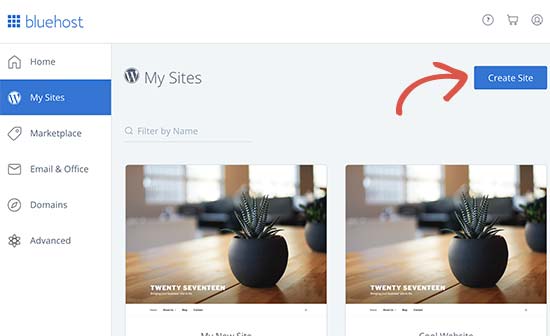 After this, you will see the WordPress installation wizard getting launched. Here, you will have to enter a site title and also a tagline if you want, then click on 'Next'.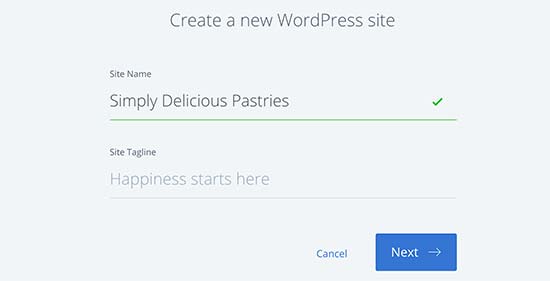 In the next step, you will have to select a domain name and path for your website, then click on 'Next'. Once your site is set up, you will see a success message with your website details.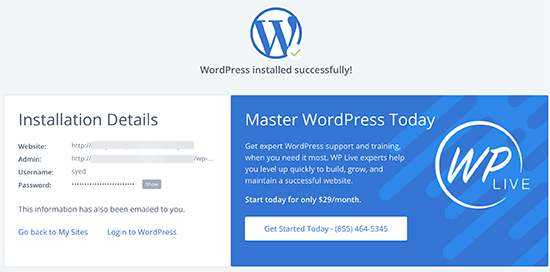 To log in to your WordPress user panel, go to www.YOURDOMAIN.com/wp-admin/. This will take you to a page where you will have to enter your username and password, then click on 'Log In'.
Select a Theme:
Your WordPress theme controls the visual appearance of your website. In simple words, a WordPress theme is a design template that you can install on your website and change its overall appearance. Every website comes with a basic default theme but it does not give an appealing look. WordPress offers tons of free and paid WordPress themes. You can choose any of them that fits your requirements. 
To change the theme, go to the WordPress admin dashboard and then navigate to Appearance > Themes and then click on the 'Add New' button.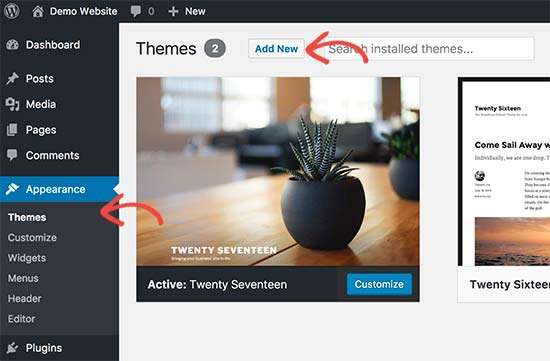 Now, you can search for the specific theme you are looking for. You will see a list of themes under different tabs including Featured, Popular, Latest and Favourites. You can choose any of them as well. 
Take your mouse over to the theme and then click on 'Install'.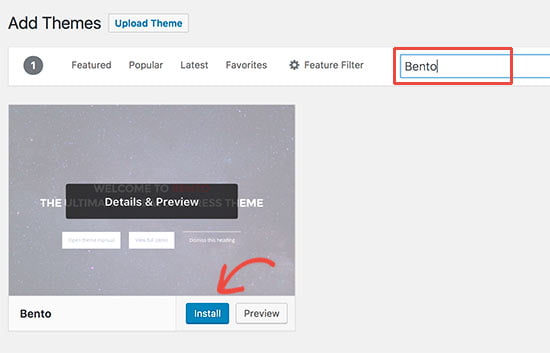 After installing the theme, you can customize it by clicking on the Customize link under the Appearance menu. A theme customizer will be opened where you can change your theme settings. You can make a few other changes later as well.
Add Content:
Now that your website is almost ready, you can start adding content to it. In WordPress, there are two default content types, post and page. To add a new page, go to Pages > Add New page and you will see the page editor screen. If you want to add a new post, go to Posts > Add New and you will see a screen somewhat similar to the page editor screen. After adding content, click on 'Publish' to make it live on your website. You always have the option to edit and update your pages and posts.
Installing the Plugins:
Although WordPress comes with a good amount of features, there is always a chance where you might feel that something is missing. In such a scenario, you can always add some  extra features to your website. For this purpose, there are hundreds of thousands of plugins available. You can use them to add features and customizations to your WordPress website.
To install a plugin, go to the WordPress admin area and then click on 'Plugins' on the left sidebar. There are so many free and paid plugins available that for each purpose, you will have multiple options to choose from. 
Wrapping Up!
Hopefully, this article has helped you to understand the process of create a WordPress website. 
Still have some doubts about this? To get some expert advice you can call us. Our team of WordPress experts will assist you with all your queries.
FAQs:
QA. How to choose a domain name?
Ans: While choosing a domain name for your website, you should make sure that it is unique yet easy to remember. Also, you should always include niche-related words in the domain name. 
QA. Is WordPress free?
Ans: WordPress is absolutely free to download but in order to create a website, you will have to purchase a domain and web hosting. This involves a fixed cost. 
QA. Can we edit a post or page after publishing it?
Ans: Yes, once you publish a page or post, you always have the option of editing it later on.
QA. What are plugins used for?
Ans: Plugins are used to extend the functionality of a website. There are plenty of plugins available for every purpose.
QA. Name a few website optimization plugins.
Ans: Some good website optimization plugins are WP Super Cache, All-in-One SEO, PushEngage etc.