If you are running a website powered by WordPress then by now you must have come across the term 'WordPress Classic Editor'. Have you ever wondered what this is and how does it work? If yes then you have come to a place where you will get answers to all of your questions about this. 
What is WordPress Classic Editor?
WordPress Classic Editor is a plugin from the WordPress repository which helps to restore the original WordPress editor on your website.
Like every other platform, WordPress keeps introducing new things in its releases to enhance the website development experience of the users. In one such release, the WordPress community introduced the Gutenberg Editor. The Gutenberg Editor which is also known as the Block Editor has been designed to become a part of the WordPress core. With this, users get additional content blocks and other functionality that usually comes with a page builder. It works on a  drag and drop approach when it comes to add items while creating a post or page.
But there are times when users do not want these added functionalities as this complicates things for them. Despite its modern looks, users find it very hard to use. In such a scenario they want to stick with the old editor. The 'WordPress Classic Editor Plugin' helps users to disable the Gutenberg editor and start using the original WordPress Editor again.
Features of Classic Editor Plugin:
Here, we have listed some mention-worthy features of the WordPress Classic Editor Plugin.
It allows the administrator to select the default editor for all the users.

With the help of this plugin, an administrator can also allow the users to change their default editor.

The administrator can also choose whether the users can choose which editor to use for each post or not.

Every post gets opened in the previously used editor no matter by whom it was being edited last time. This way a consistent content editing experience can be maintained.

This plugin also includes various different filters that allow other plugins to control the settings and choose the editor for every post.

By default, the WordPress Classic Editor will hide all the functionality that Gutenberg Editor has to offer.
How to Install WordPress Classic Editor?
If you want to disable the Gutenberg Editor and start using the old classic editor again then you will have to use the WordPress Classic Editor Plugin. For this you will have to: 
Search for '

WordPress Classic Editor

' in the WordPress plugin repository.

Now you will be given many results and you will have to pick the one you were actually looking for.

Install and activate the plugin.

After this, you do not have to follow any additional step because activating this plugin will automatically disable the Gutenberg Editor..
You will also have the option to keep both the editors working on your website simultaneously. You can make your choice from the plugin's settings. For this:
Go to

Settings > Writing

from the WordPress dashboard area. 

Then there will be an option to do so under '

Classic editor settings

'.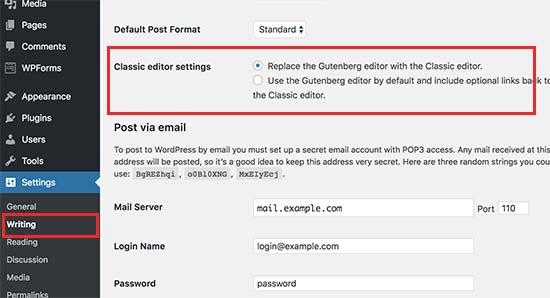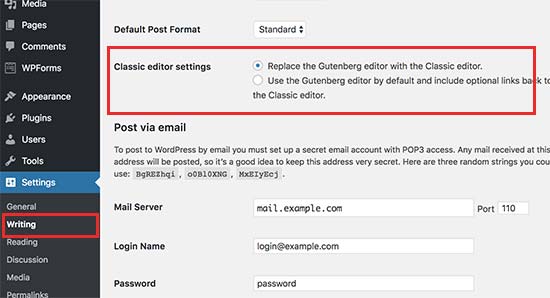 Once you select the option you want, click on 'Save Changes' so you store the settings.
Now whenever you want to create a new post or edit an old one, you will be given an option to do so by using the classic editor.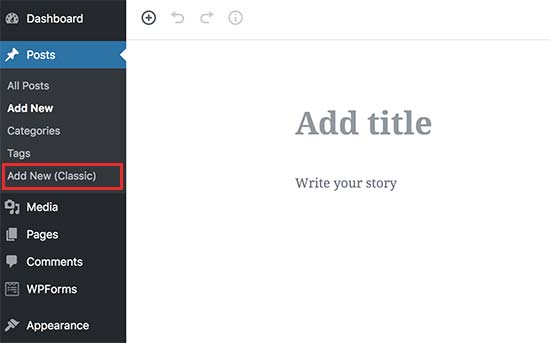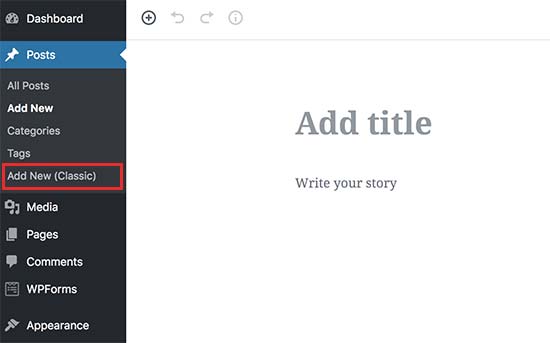 These simple steps are everything that you require to get back to the classic editing experience for your WordPress website.
Classic Editor vs. Gutenberg Editor:
Now you must be wondering if you made the right choice by switching back to the classic editor by disabling the all new, modern and futuristic Gutenberg editor or not. Here, we have listed all the important factors and compared these two editors on the basis of them.

Interface:

Interface is one of the major differences between these two. Gutenberg editor works on a drag and drop approach. This means you can select a block and place it anywhere on the page in just a single click. It also allows you to break up the text sections and experiment with different image placements. On the other hand, Classic editor uses a much simpler layout. And people who are not looking for these features will find Gutenberg more complicated and less helpful.

Content Creation:

The Gutenberg Editor has an engaging framework. It will keep every section separately organized when it comes to adding different elements like shortcodes, images, embeds etc. Whereas the classic editor comes with one single window. It works as a plain canvas where you can write almost anything but when things start getting flooded in that window then it becomes really difficult to manage.

Execution:

The Gutenberg editor is much easier to work with when it comes to adding different complex elements and adding media files. The reason behind this is the additional functionalities provided by the editor. It leaves you with absolutely no need of using any third-party plugin for anything. On the other hand, the Classic Editor does not come with these many functionalities. For each desired functionality, you have to use a suitable plugin.
Wrapping Up!
To put it in simple words, the all new Gutenberg editor might comeloaded with a lot of amazing functionalities but it is really complicated when the point comes to using it for content creation and other things. On the positive side, it comes bundled with a lot of new editing tools, layouts etc. If you are looking for a way by which you can give your website a new transformation then your possibilities are endless with the Gutenberg Editor. It will help you to do so and along with this, reduce the need for some extra plugins for any desired functionality.
But this editor still has some downsides as well. It comes with a steep learning curve. The users find it over-complicated and hard to use. It gets very much overwhelming for people who are only looking for a solution that lets them create straightforward posts and pages. When it comes to adding text and media files also, they want to keep it simple. 
In such a situation users start looking for ways to revert back to the WordPress Classic Editor. This is when The Classic Editor WordPress Plugin comes into the picture. This plugin allows the users to disable the Gutenberg Editor and get back with the original classic editor.
Still have some questions? If you get stuck somewhere or want to know more about WordPress you can contact us on the toll-free no. 1-866-332-O276. We are available 24×7 as we work around the clock. Our WordPress Support Professionals will answer all the questions that you can possibly have.